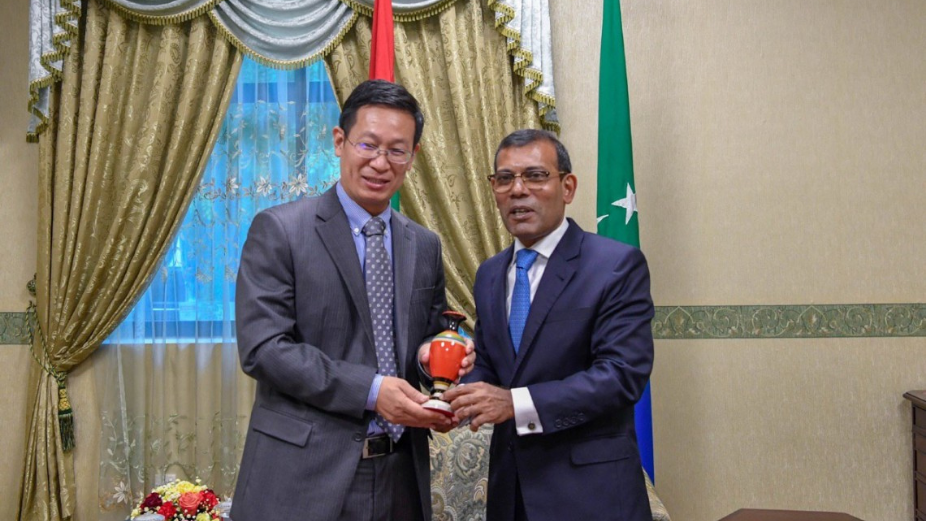 Speaker of Majilis and the former President of Maldives, Mohamed Nasheed has said that Maldives requires further 2 year grace period in order to repay the country's debt to China.
Nasheed said this in a tweet replying to the the Chinese Ambassador to Maldives, Zhang Lizhong's refute against Nasheed's claim on that Maldives has to pay USD 15 million to China within the next 14 days.
Ambassador Zhang said that his research has shown that the payment due by Maldives to China in the year of 2020 is USD 1719,535 while the earliest due payment for next year is in mid-January for the STELCO power project. He also noted that the Hulhumale' phase II 1530 housing unit's stated payment of USD 2,375,000 is due to a non-Chinese third party bank.
Replying to this, Nasheed expressed the value of Maldives-China friendship and requested the Ambassador not to wait till the last minute to settle the ongoing debt issues.
Speaker of Majilis, Mohamed Nasheed and Chinese Ambassador to Maldives, Zhang Lizhong has been exchanging words on Twitter frequently, especially after Nasheed's claim that Maldives has to pay over USD 15 million to Chinese banks within 14 days. However, this claim has been refuted by the Chinese Ambassador and has said to check the account book and save the USD 15 million for the budget.
Ambassador Zhang has further said that dialogue has already started on relevant issue and that he trusts, with joint efforts, there will be a proper and mutually-beneficial arrangement to inject more impetus to economic recovery.