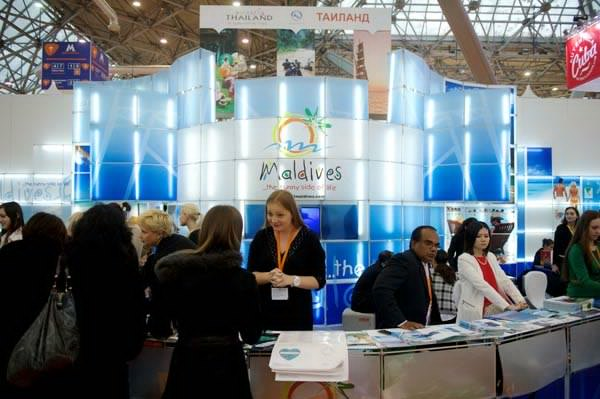 Maldives is currently being exhibited in Moscow International Exhibition Travel & Tourism (MITT) which is held in Moscow, Russia from 14th – 16thMarch 2017.
MITT is Russia's largest and longest running travel exhibition. This year 42 representatives from 19 companies of Maldives will be promoting the destination in the Maldives Stand. The Maldivian delegation consists of 10 resorts and nine travel agents.
The Maldivian stand is custom built in an area of 114 square meters, displaying the unique aspects of the destination through various colourful images. Officials of Maldives Marketing and Public Relations Corporation (MMPRC) will meet with industry partners, and travel and trade media in order to discuss possibilities of joint promotions to further strengthen the market throughout the three days. In addition to the business meetings, a social media campaign will be carried out to win immediate gifts and their will be a chance to get your name printed in local "Dhivehi" language which is unique to the Maldives.
With over 1,800 participating companies and 192+ destinations, it is the key networking place for the industry stakeholders. MITT welcomes both trade and consumer visitors, with specific 'trade only' days. In 2016, the event recorded an attendance of 28,035 unique visitors, 76 percent of whom were travel trade professionals.
Russia is one of the top source markets to Maldives, and in 2016 Maldives recorded 46,522 tourists from Russia, which in an increase of 5 percent compared to 2015.