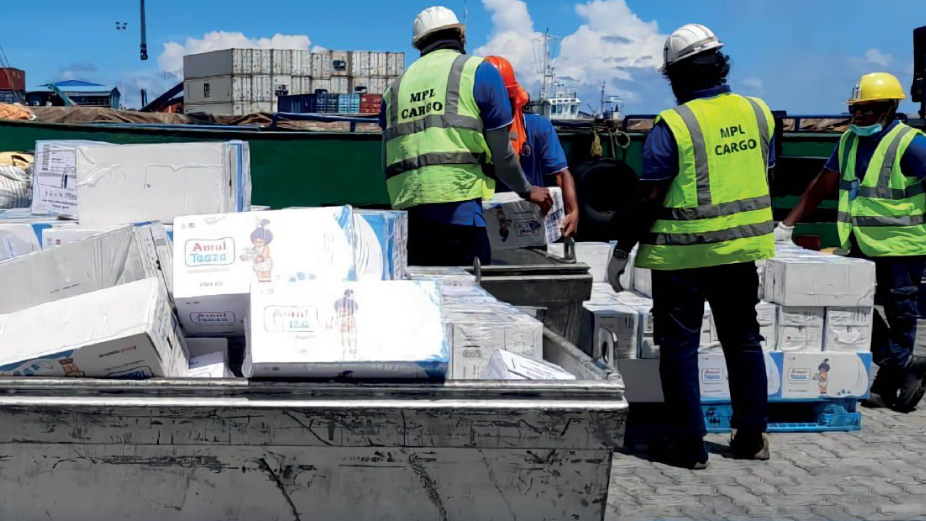 Maldives Port Limited (MPL) specified that they have cleared a total of 190 containers at their port between 6pm on April 24 and 6pm April 25. Furthermore, they also have cleared perishable cargoes which include onions, watermelons and tomatoes.
This specific operation required 117 20-foot containers and 73 40-foot containers. They have cleared shipments of perishable cargo, which consisted of; 340 bags of cabbage, 1238 bags of onion, 964 bags of potato, 543 bags of pumpkin, 24 bags of sweet potato, 1346 bags of watermelon, 1002 bags of tomato, 388 bunches of banana, 10 cartons of bottle gourd, 50 cartons of brinjal, 80 cartons of colocasia, 1892 cartons of eggs, 3 cartons of ladies finger, 969 cartons of pineapple, 10 cartons of snake gourd, 18 cartons of tomato, 125 crates of honey melon, 123 crates of mango, 34 crates of sweet melon, 6 gunny of ash gourd, 6 gunny of beetroot, 6 gunny of lemon, 3 jumbo bags of banana and 22 jumbo bags of sweet melon.
MPL has affirmed that they aim to clear cargo as quickly and efficiently as they possibly can, and now is releasing daily cargo clearance statistics via its social media channels.