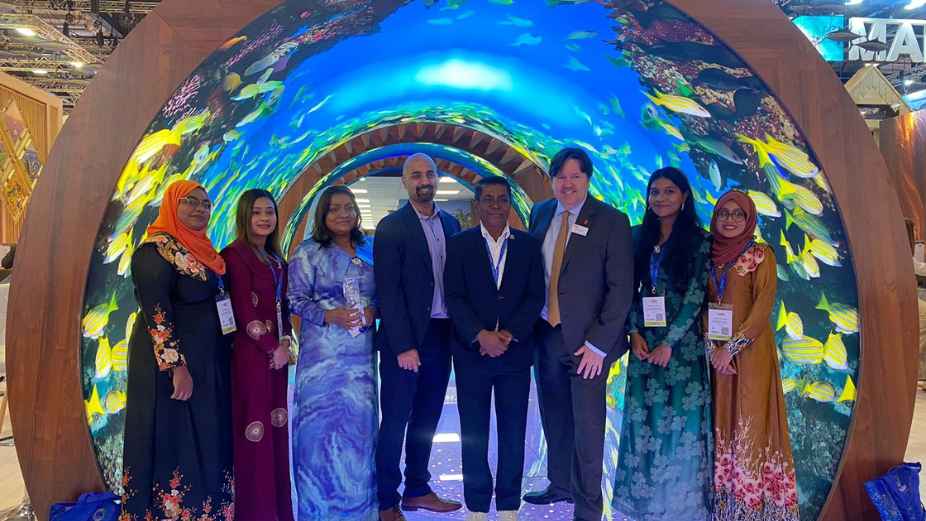 The Maldives has been awarded the Best Stand Award at this year's World Travel Market London (WTM London).
Organised by the Maldives Marketing and Public Relations Corporation (MMPRC), a delegation of 181 representatives from 92 tourism companies represented the Maldives at WTM London held at ExCeL London from November 6 to 8.
Thoyyib Mohamed, the CEO and MD of MMPRC, led the delegation, resulting in the Maldives receiving the Best Stand Award for its exhibition showcasing the nation's natural beauty. The stand served as a platform for visitors to explore the diverse services offered in the Maldives.
The 500-square-foot stand included an innovative addition this year—an experience zone featuring an "underwater tunnel" walkway, providing a visual representation of the country's underwater riches.
WTM London is recognised as a premier global tourism fair, fostering discussions and facilitating business relationships among various stakeholders in the tourism industry.
MMPRC won the "Best Stand Design" award at @WTM_London 2023! The Maldives stand at WTM London 2023 draws inspiration from the breathtaking underwater beauty of the Maldives and presents the unique experiences and sustainability initiatives from the Sunny Side of Life pic.twitter.com/OMqntcSI1A

— Visit Maldives (@visitmaldives) November 8, 2023
MMPRC highlighted the fair's strategic importance as a platform to engage with the UK's tourism industry and global tourism partners, disseminating the latest information about tourism products in the Maldives.
The United Kingdom holds significant importance as a tourist destination for the Maldives, ranking fourth in tourist arrivals. Until October 2023, 122,614 tourists from the UK had visited the Maldives, constituting 8.1% of the total tourist arrivals.