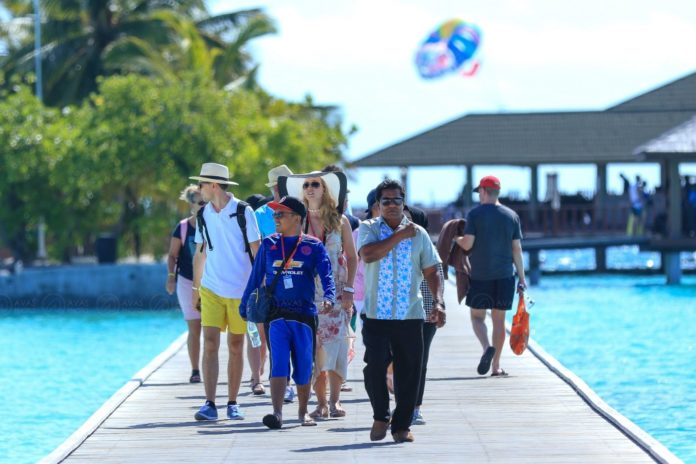 Maldives recorded significant development from Chinese travel market due to increase in arrivals from China, the destinations biggest source market. This is the first growth registered after experiencing a decline in numbers for almost two years.
November 2017 statistics released by the tourism ministry show that a total of 120,506 tourists visited the Maldives during the month, a 15.2 percent increase compared to the 104,572 tourists in November 2016. Overall travel trends remain mostly same as all source markets showed strong gains.
Europe, the largest regional source market which has been improving after a period of decline in growth, recorded a growth of 17.1 percent in November 2016. Main European markets showed a significant increase. With the UK going up by 18.7%, Germany by 9.9%, France by 24.9% and Italy by 40.3%.
with the increase in the Chinese market, Asian region also projected same growth. Arrivals from China increased by 11.8 percent to reach 21,195 in November 2017, compared to the 18,954 in November 2016.  South East Asian Countries such as Malaysia, Thailand and Philippines recorded increase of 0.6%, 181.9% and 10.8% respectively.
Meanwhile, arrivals from South Asia declined with the decrease in Sri Lankan market by 15.8% and slow growth in Indian Market. Another market that declined is the Middle East market with visitor numbers going down by 22.3%. A major decline in this once strong market is due to weak performance countries such as Saudi Arabia which went down by 49.4%, Qatar by 29.1% and Kuwait by 16%. Only positive growths were recorded form United Arab Emirates and Egypt with 11.6% and 16.4% respectively.
Emerging new markets sustained their positive growth with arrivals from the Americas going up by 36.9%, Oceania by 43% and Africa by 35.4%. The US which has recently secured a place amongst the top 10 tourist generating areas to the Maldives tourism industry, increased by 35.6% to reach 3,961 last in November 2017 compared to the 2,921 in November 2016. Similarly, the number of visitors from Australia also increased by 43.4%. The South African market also showed signs of recovery as the arrivals from the country increased by 89.5% in November 2017.
According to the November statistics, total arrivals for the past 11 months of the year increased by 6.8 percent to reach 1,246,501 compared to the 1,166,605 in the same period of last year. The government has recently announced new strategies to retain a structured growth in tourism, including a slowdown in leasing islands for resort development and increased marketing efforts in key markets such as China and the Middle East.
From November to April it is considered peak tourist season in the Maldives. The peak season will last until April. While the time period is cold winter in a majority of the countries in the northern hemisphere, Maldives will have a dry sunny weather due to its position near the equator and this is favourable among lots of travellers.