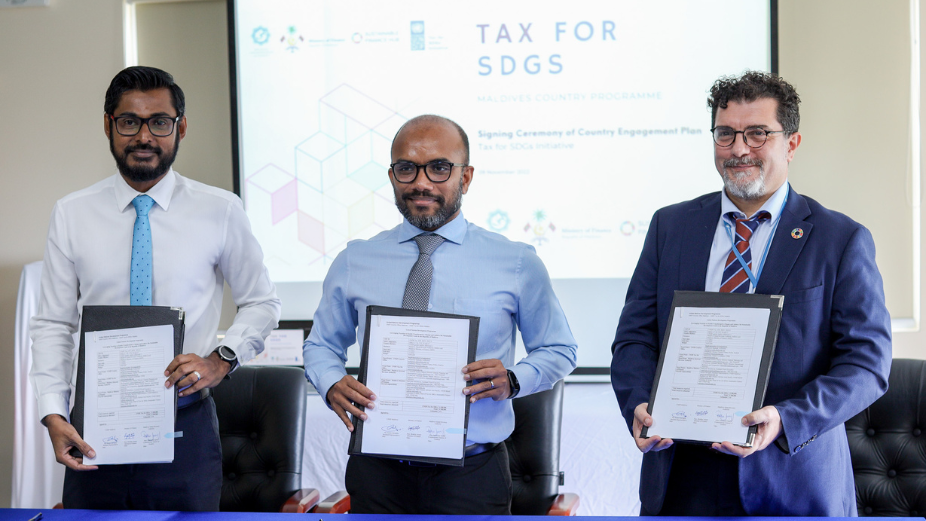 Maldives Inland Revenue Authority (MIRA) and Ministry of Finance has signed an agreement with UNDP Maldives to launch the country engagement plan on tax for Sustainable Development Goals (SDGs) initiative.
The initiative was launched at a special ceremony held at the Ministry of Finance yesterday with participants from MIRA, UNDP and the Ministry.
UNDP Maldives affirms that taxes contributes to growth & better outcomes in environment, health, gender and other SDGs area, therefore the signing of this agreement will further strengthen fiscal space and capacities for efficient and equitable tax systems. Enrico Gaveglia, UNDP Resident Representative in the Maldives said "This agreement will reinforce the existing support UNDP is providing to the Maldives government to broaden the fiscal space and leverage innovative financing solutions through the Climate-themed Development Finance Analysis and the INFF."
With the support of Norway and Finland, Maldives and Bhutan are the only countries selected from the Asia Pacific region as #Tax4SDGs focus countries. This plan will focus on:
Increasing Tax Efficiency and Digitalization
Building Equitable Taxation Systems
Capacity Building
Speaking on the occasion, Commissioner General of Taxation Mr. Fathullah Jameel highlighted the importance of such a programme for the Maldives to cope with the challenges faced by the tax system over time. Among these challenges, the Commissioner General highlighted the challenges in the tax system through a digitised global economy, gender-based taxes and the difficulties in getting businesses operating outside laws and regulations into the tax system. He also acknowledged the financial and technical support provided by UNDP to strengthen the tax system and achieve economic goals.
Under the Tax for SDG programme, the relevant institutions will be developed by making necessary changes in the tax system, according to MIRA. In this context, MIRA has targeted to focus on two main areas under this program which includes establishing a data governance framework to achieve tax digitalization goals and developing the enterprise risk management framework and business continuity plan.
With this initiative, Finance Minister Ameer further stated that the government aims to enhance effectiveness of the Maldivian tax system, and accelerate the progress of attaining SDGs.