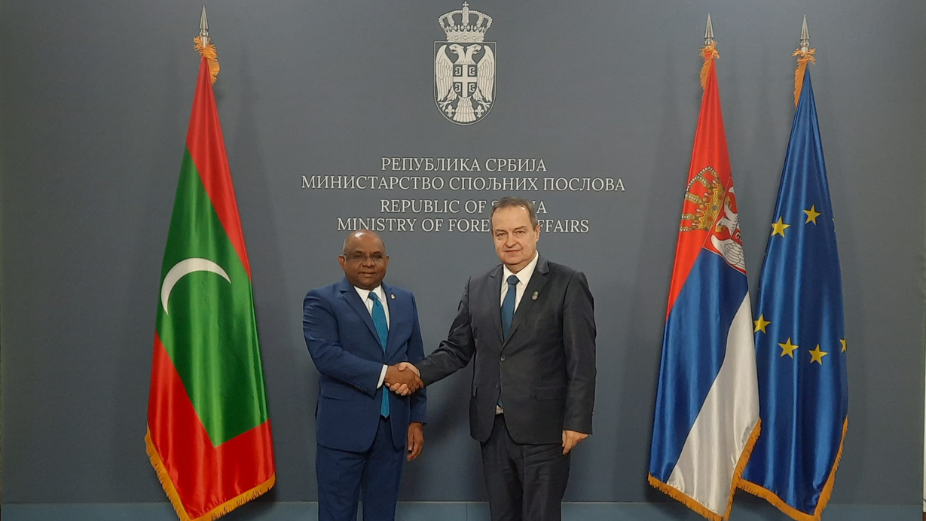 Minister of Foreign Affairs of the Maldives, Abdulla Shahid has met with the First Deputy Prime Minister and Minister of Foreign Affairs of the Republic of Serbia, His Excellency Ivica Dačić.
A memorandum of Understanding on bilateral political consultation were signed between the two countries. The MoU aims to deepen Maldives' and Serbia's political engagement by having periodic consultations to enhance cooperation on areas of mutual interest.
During the meeting, the Ministers had constructive discussions on enhancing the existing bilateral relations in a multitude of areas, such as education cooporation, youth development, health, and tourism. In this regard, Serbia informed that they are ready to receive 20 to 25 young sportspersons between the ages 12 to 18 from the Maldives to train them in volleyball, football and handball. This initiative is expected to be realised by mid 2023. Additionally, the Serbian Government is also willing to increase the scholarships they offer to Maldivian students.
Minister Shahid also raised the possibility of establishing a visa waiver agreement between the Maldives and Serbia. Minister noted that such an agreement would increase people to people ties, promote tourism and add to the bilateral portfolio between Maldives and Serbia. This request will be taken into consideration by the Government of Serbia.