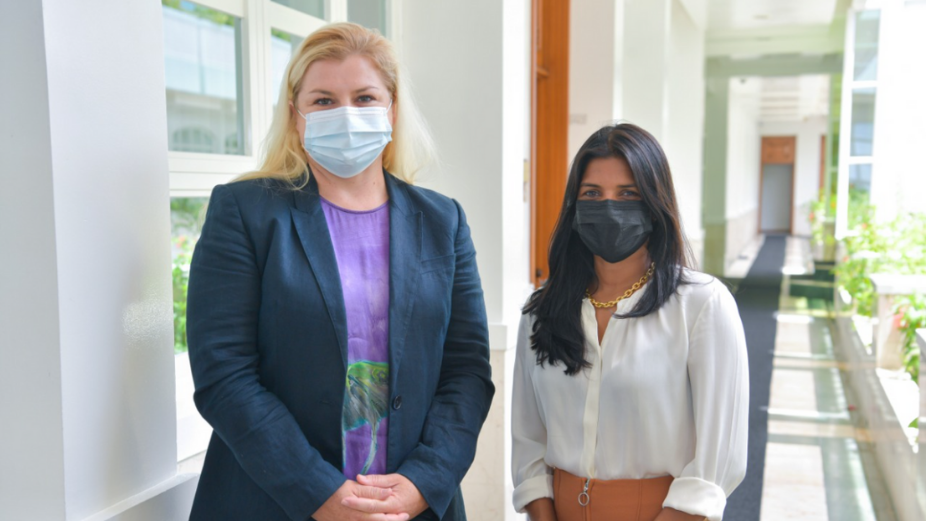 The Maldives' Special Envoy for Climate Change, Ms Sabra Noordeen, this week held meetings with Maldives based foreign diplomats and heads of multilateral agencies to discuss the Maldives' climate change priorities and concerns.
In the separate meetings held throughout the week Ms. Noordeen advocated for greater reduction in global emissions, stating the need for greater ambition to counter the impacts of climate change. She further discussed the challenges facing vulnerable and small island states, such as the Maldives in accessing financial and technical support for adaptation purposes. The Special Envoy also spoke of the Maldives own pledge to achieve Net Zero emissions by 2030, and highlighted the Maldives' intention to significantly increase its generation of renewable energy through solar investments. She further elaborated on the need for greater skills development on mitigation and adaptation across the country in order to prepare the Maldives for an increasingly heating planet.
Ms Noordeen met with the High Commissioner of India to the Maldives, H.E. Mr Sunjay Sudir and discussed areas of convergence with regard to climate change and how to enhance greater cooperation in this area.

While meeting the United Nations Resident Coordinator to the Maldives, H.E. Ms Catherine Haswell Ms Noordeen held discussions regarding climate action in the Maldives, including skills development in resilience, mitigation and adaptation to climate change, with a focus on decentralisation.

She also met with the High Commissioner of Pakistan, H.E. Vice Admiral Ather Mukhtar, and held discussions on the impact of climate change on both nations, and on the ambitious projects initiated to counter these effects.
During the meeting held with the High Commissioner of Bangladesh, H.E. Rear Admiral Nazmul Hassan, discussions were held on climate challenges and priorities for Bangladesh and the Maldives. They also spoke about common approaches at the Climate Vulnerable Forum (CVF), and skills and knowledge sharing with regard to adaptation.
In her meeting with the Japanese Ambassador, H.E. Ms Keiko Yanai, and representative of the Japanese International Cooperation Agency, Ms. Noordeen noted with gratitude ongoing Japanese support to strengthen Maldives resilience to climate change across several areas.
At the meeting held with the Chinese Chargé d'affaires, Mr Yu Xueyong, Ms Noordeen noted China's leading renewable energy capacity, and held further discussions on how the Maldives and China can achieve greener economies.

She also met with the Deputy Resident Representative of the United Nations Development Programme (UNDP), H.E. Ms Vera Hakim and discussed the UNDP's ongoing climate related projects in the Maldives.
The climate emergency presents an existential crisis for the Maldives and is a key pillar of the Maldives' foreign policy. This Monday, the UN's Intergovernmental Panel on Climate Change released a report shows that every region in the world is under threat from climate change, and stated that greater reductions in carbon emissions were required to maintain global temperature rise to 1.5 degrees.