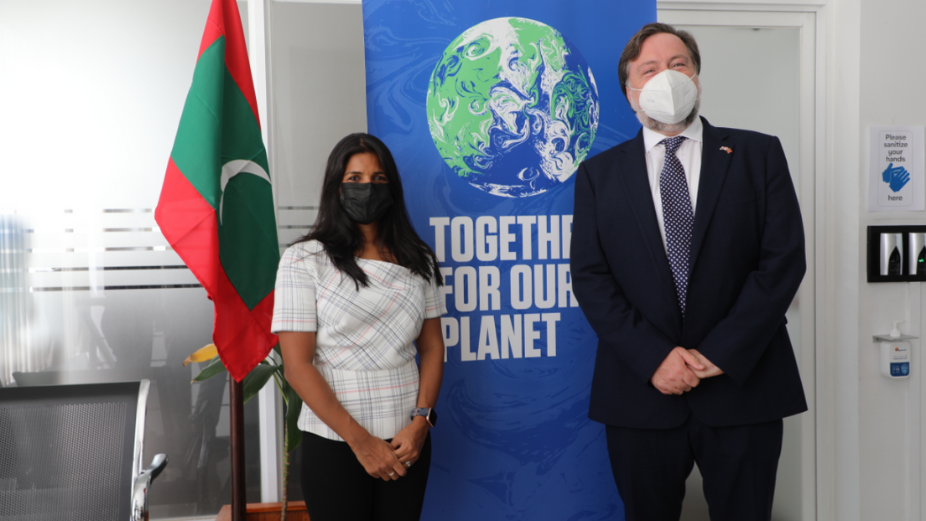 The Maldives' Special Envoy for Climate Change, Ms Sabra Noordeen and Minister of Environment, Climate Change and Technology, Ms Aminath Shauna have jointly met with Mr Ken O'Flaherty, UK Government's COP26 Regional Ambassador to Asia-Pacific and South Asia.
The British High Commissioner to the Maldives, Ms Caron Rohsler, also attended the meeting held at the Ministry of Environment, Climate Change and Technology yesterday morning.

At the meeting, Ms Noordeen welcomed the COP26 Regional Ambassador to the Maldives and stated that consistent and timely access to financial and technical support for mitigation and adaptation were vital for countries like the Maldives. The Maldivian officials outlined the Government's revised NDC and pledge to achieve net zero emissions by 2030, but stated that the Maldives actions alone will not be enough to contain the impacts of unfettered climate heating.
The participants discussed the road to COP26 to be held in Glasgow in November this year, and emphasised the urgency of climate action required and the need to turn ambition into action in order to meet the best case scenarios outline in the recent IPCC report.
The participants expressed hope for a positive and successful outcome at COP26.