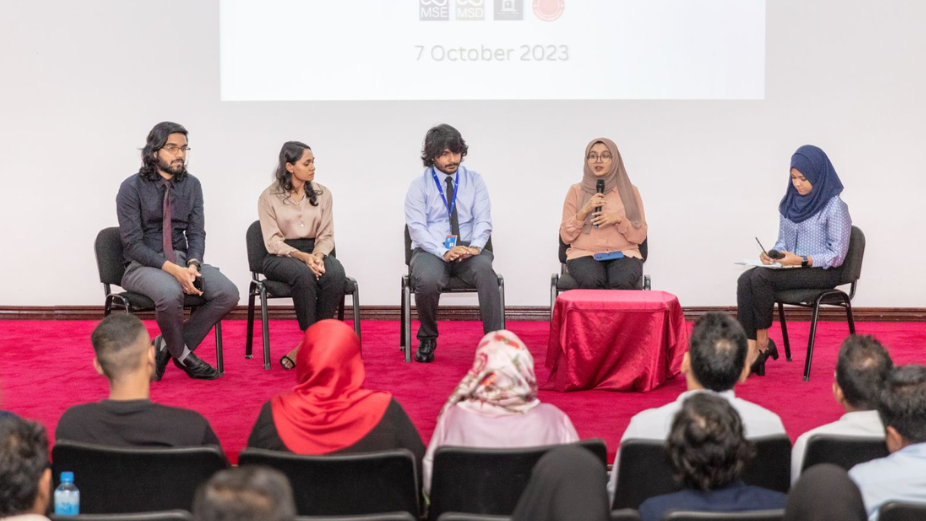 Maldives Stock Exchange partnered with Maldives National University Business School to organise an engaging and knowledge-filled day of investor engagement, "InvestorFest- Igniting Financial Futures" as part of World Investor Week 2023. This collaboration represents their commitment to fostering financial education.  
World Investor Week is a globally recognised annual campaign, championed by the International  Organisation of Securities Commissions (IOSCO). Its primary goal is to increase awareness about the critical importance of investor education and protection while highlighting the various initiatives undertaken by securities regulators worldwide in these crucial areas. 
The event, "InvestorFest – Igniting Financial Futures," is thoughtfully divided into two parts, each focusing on one of the central themes of World Investor Week:
The first part featured a panel discussion that focused on the theme of Sustainable Finance on an  Individual Level. Distinguished panellists from renowned organisations such as Mof, UNDP, MPAO, and  CMDA shared their insights and expertise on sustainable finance practices. This discussion aimed to equip participants with knowledge about how sustainable finance choices can positively impact not only individuals but also communities. 
Following the enlightening panel discussion, attendees witnessed the launch of the highly anticipated  Finnovation Challenge, in partnership with Women in Tech Maldives. The challenge's goal is to inspire the development of innovative and practical digital finance solutions tailored to address the unique needs and challenges faced by island communities, thereby fostering financial inclusion and driving economic growth in these regions. 
The Finnovation Challenge is a remarkable opportunity for participants to leverage their creativity and technical insight. By designing innovative digital financial solutions, participants can directly impact the lives of individuals living in island communities. This initiative aligns with the broader vision of creating a more inclusive and prosperous financial landscape for all. 
For students and aspiring innovators eager to make a difference, the registration doors for the  Finnovation Challenge are open. By participating in this challenge, students have the chance to bring forth digital solutions that can have a profound and lasting effect on society.