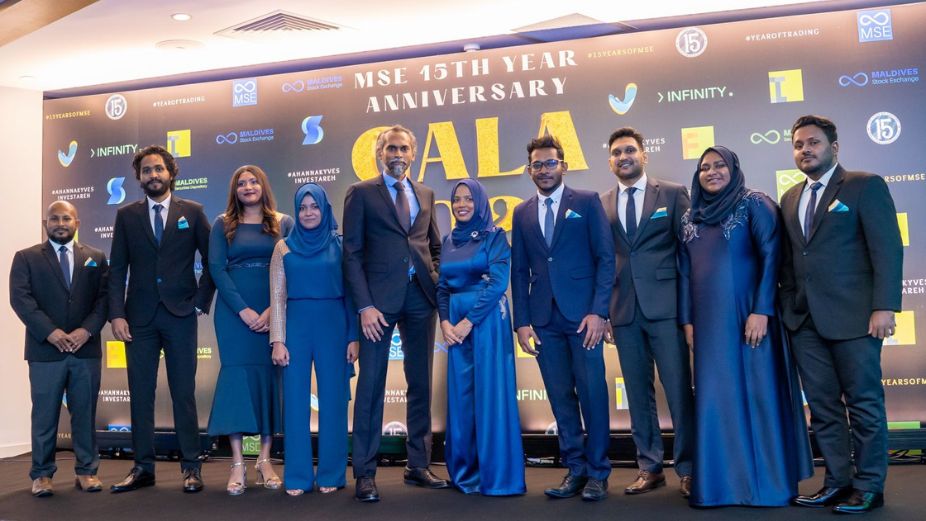 A gala was held last night to mark the 15th year anniversary of the Maldives Stock Exchange (MSE) and Maldives Securities Depository. Shareholders, board members, and stakeholders joined the staff in celebrating this milestone. 
During the gala, tokens of appreciation were presented to long-standing contributors to the growth of the market, along with all the listed companies for being an important part of the journey.  
The highlight of the event was the launch of the year as "The Year of Trading, #AhannakyvesInvestareh" by the team. MSE has become a driving force for developing groundbreaking technological solutions in-house that are making the capital market more accessible and seamless to stakeholders and investors alike. The aim of the awareness programs launched in the timeline is to advocate for financial inclusion and literacy for the community. In this manner, the fishing and tourism industries have been identified as focus industries whilst programs will exclusively be curated for youth and women as select demographics. 
MSE CSR Initiative for the year 2023 was accomplished. In line with World Cancer Day which falls on February 4, Cancer Society of Maldives (CSM) was chosen as the candidate to receive a donation of MVR 150,000 from MSE. Cancer being a prevalent cause of death in the Maldives, MSE identified CSM as a driver of change working towards reducing the incidence and impact of cancer in our community. The donation was open to the public, corporates and businesses over the course of the month.