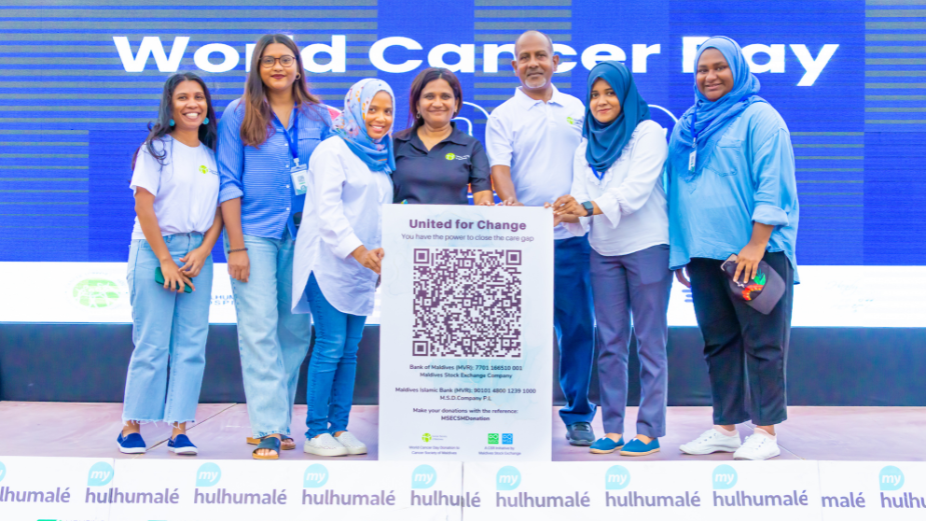 Maldives Stock Exchange (MSE) has officially launched its CSR Fundraising Initiative at the World Cancer Day 2023 event organized by the Cancer Society of Maldives. The initiative was launched as part of its 15th anniversary celebrations.
MSE will make a donation to the Cancer Society of Maldives on February 26, 2023 at the Annual Celebration Gala to be held to celebrate the 15th year anniversary of MSE. 
The initiative was chosen in line with this year's theme: "Uniting our voices and taking action". The donation from funds collected at the ongoing fundraiser will be aimed to boost the NGO's efforts in making a difference through their tireless efforts. 
It also aligns with the top priorities for the activities in the timeline of MSE for the year 2023.
Community Outreach
The communities involved both directly and indirectly in the biggest industries in the Maldives have immense scope of contributing to and benefiting from the capital market. MSE states that it intends to educate and encourage these communities to participate in the market.
Women Empowerment
The lack of women in the financial sector calls for more empowerment and financial literacy required to inform on the opportunities in the market for women to become financially independent and take smarter steps for the future.
The fundraising initiative was officially launched at the World Cancer Day 2023 event organized by Cancer Society of Maldives at the Hulhumale' Central Park on February 4, 2023. At the MSE stall during the event, attractive games for kids were carried out. 
The fundraiser is open for public donations, with details on the MSE website. Donations will close on February 23, 2022 and all funds collected will be handed over to the Cancer Society of Maldives at the MSE GALA. 
MSE aims to widen its approach to making a positive impact on the community besides facilitating and improving the avenue of investment in the capital market of the Maldives. 
For supporting statistics and details on making the donation, please refer to this page on the MSE Website.