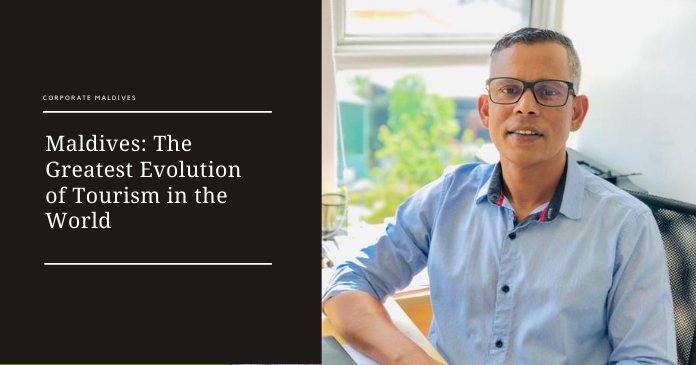 Industry pioneer, Hon.Mohamed Umer Maniku, and his friends started tourism in the Maldives back in 1972, challenging the opinion of the United Nations (UN), which following a viability assessment on whether tourism facilities could be established in the Maldives concluded it would not be possible. The UN noted there were no natural sources of water, no electricity and no proper airport. However, despite this initial prediction, tourism in the Maldives is flourishing today due to the hard work of tourism pioneers like Maniku, amongst others.
The arrival of the first tourists is thought to have occurred in February 1972. Tourism in the Maldives started with just two resorts with a capacity of about 280 beds. Kurumba Island Resort was the first to open, in 1972. It was followed by Bandos Island Resort. Today, there are over 150 resorts located in the various atolls of the Republic of Maldives. Over the past few decades, the number of tourists arriving in the Maldives has risen continuously.
In 2009, local island guesthouses began popping up in the Maldives. This was thanks to a change in regulations that began to officially allow tourists to stay amongst the local population, rather than just on privately-owned resort islands. The legalization of tourist facilities on islands already inhabited by locals began to create new jobs and allow more people to enjoy the gains from tourism. One example of an inhabited island where guesthouse tourism is blossoming is Maafushi, in Kaafu Atoll. It's one of the nearest guesthouse locations to the International Airport (only 20 km).
In 2015, a total of 1.2 million tourists visited the Maldives, and another 1.5 million was predicted for 2020, however, the devastating COVID-19 pandemic temporarily shut down the entire industry and caused a major loss of hospitality jobs. Currently, work is being undertaken to dramatically boost tourist arrival numbers by constructing another 120 properties, while existing properties have resumed operations under the 'new normal'. New openings will include foreign brands such as the Four Seasons, JW Marriott, Riz-Carlton, Bulgari, and many more.
It is estimated that another 100 new islands with 100 to 200 rooms each will be required to reach a target capacity of 7.5 million visitors by 2028, which is a government goal. But is this achievable? Until recently, tourism was restricted to the resort islands, which were uninhabited islands developed to offer all kinds of self-contained services with no contact with the local people. Guests rarely leave these resorts (which are mostly managed by foreign multinationals, whose revenues only minimally go back into the local economy).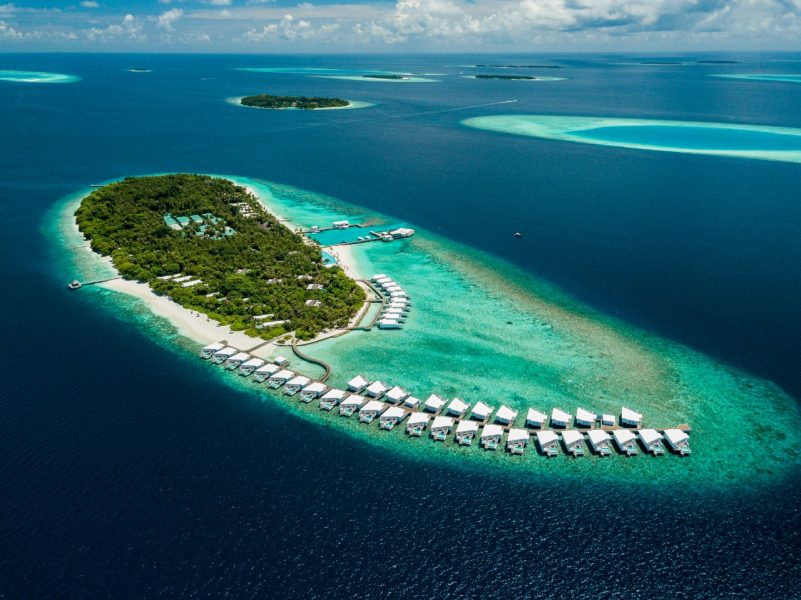 As a contemporary legend in global tourism, the Maldives is, arguably, an example of the greatest and fastest evolutions in luxury travel over the last few decades. It sets the world standards for tropical paradises and exclusivity; its unsurpassed beauty has continued to attract travellers from all over the world. Today, tourism figures, awards and statistical forecasts show the destination as a powerful force with a lucrative future. One of the many examples is that the 2018 World Travel Awards recognized the Maldives as the world's leading island destination. Every year our resorts garner prestigious rankings on global platforms such as the Condé Nast Traveller Hotlist.
In terms of annual tourist arrivals in the Maldives, the figures have increased steadily from a mere 1,097 in 1972 after the opening of the first resort to over a million guest arrivals in 2013. The Maldives is home to a new generation of luxury resorts under the 'One Island, One Resort' concept which rivals such as the Caribbean are lacking in. The Maldives' over-water villas, spas and innovative restaurants attract the attention of global trendsetters and upscale travellers. The stunning tropical environment of the islands has inspired a new class of luxury and design, allowing hospitality brands to create a distinctive guest experience few destinations can match. Thus, the Maldives is a 'must-have' destination for many top-tier hospitality brands.
The 'One Island, One Resort' concept has further benefited the Maldives by insulating each resort from the outside world; whether it was SARS or bird flu, or whether it is local politics or international issues; each resort and its guests are in a safe bubble, protected from any outside interference. So much so that during both the SARS and the bird flu epidemics, the Maldives saw some of its highest guest arrivals. Why?  Guest recognises the 'One Island, One Resort' concept provides a protected and sheltered environment.
What you can do in the Maldives? The Maldives is the definition of paradise. Our luxury bungalows extending over turquoise waters invite you to jump in for a swim, the sandy beaches are picture perfect and the pure luxury is unparalleled. The Maldives is a dream destination from every traveller. I must admit, many expect to do nothing more than bask in the sun, sip cocktails and watch the sunset over the Indian Ocean, but once they've arrived they discover there are more things to do in the Maldives than they originally thought. It's true, the over-water bungalows are a spectacular sight and those iconic images are what draws visitors to the Maldives in the first place. But are there other things you can you do in the Maldives besides relax? Oh yeah! You will actually end up having an amazing adventure holiday! Here are some activities I recommend.
Scuba Diving:
The Maldives is one of the premier scuba diving destinations on earth and if there is one place you need to give it a try, it's here. There are many affordable PADI dive centres where you can take a discovery dive if you are not certified, or sign up for several dive options to explore the many reefs.
Snorkelling:
If scuba diving isn't your thing, snorkelling is a great alternative. The reefs are so pristine in the Maldives that you don't even have to go into the deep water to see a lot of marine life! In many resorts, the house reefs are on your doorstep. You can snorkel with sea turtles and big schools of fish – it's just like you're in your own aquarium with lots colourful full fish.
Dolphin Cruise:
The bottlenose and spinner dolphins are some of the most active and playful mammals you can find in Maldives! They often flip and twirl out of the water, putting on a great show for you. This excursion is offered in almost in all the resorts in the Maldives.
Island Hopping:
Believe it or not, there are many settlements scattered around the Maldives and many locals live and work on these islands. If you stay at a private island in the Maldives, make sure to book an excursion to visit the nearby communities. The Maldives has a moderate Muslim culture, so be sure to dress modestly with long skirts/shorts and no spaghetti strap sleeves if you visit an island community – sarongs are useful.
Surfing:
The Maldives is a world-class surfing destination. Many resorts attract top surfers from around the world to enjoy the awesome breaks, free from crowds. Maldives also hosts some intentional surfing tournaments.
Stand-Up Paddle Boarding:
The Maldives is great for stand-up paddle boarding (SUP) because most islands are surrounded by calm shallow waters that only ebb and flow with the rising tides. You can paddle along in safe bays with water so clear you can see fish swimming right below your board.
Spas:
The Maldives was made for romance and when visiting this island paradise, take some time to pamper yourself. Most people visiting the Maldives are couples and families and if you visit as a couple, you are highly recommended a couple's massage.
Destination Dining:
I don't think there is a more romantic destination on earth than the Maldives. If you are travelling as a couple and want to splurge on a romantic night out, this is the place to do it. While a lot of food is buffet style in the Maldives, take a break and enjoy an a la carte private dinner either on a beach at sunset or on a jetty. You can choose meals from $200-2000, including some bubbles.
I don't think anywhere else fairly compares with the sheer beauty of the Maldives. The abundance of atolls jutting out of deep blue waters is overwhelming. These islands, sitting on underwater plateaus,  are just waiting for you to come and visit. Our resorts have been fully adjusted to operate according to the 'new normal' and you can find the best rate guaranteed if book through the resort directly.
About the writer: Shameem Mohamed Ismail is the Assistant Operations Manager at luxury resort Amilla Fushi Maldives. He has been in the tourism industry for 20 years.