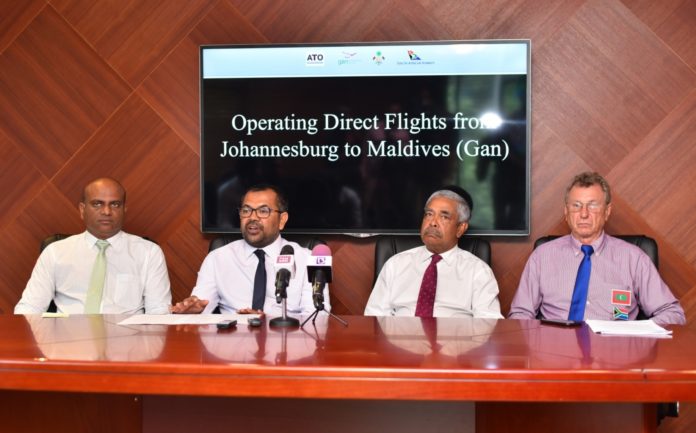 The Ministry of Tourism announced on 2nd August that direct flights are scheduled to start operations between Johannesburg and Gan, Addu.
Operated by South African Airways, weekly flights are scheduled between the destinations staring 24th November 2018. A fleet of A340 airbuses will carry approximately 300 passengers every week to Addu from South Africa's biggest city.
Addressing the press at a conference held at the ministry, Minister Moosa Zameer noted the increasing number of tourists visiting from Africa, adding that this number is further expected to increase once operations commence between Johannesburg and Gan. Minister also stated that this would give the opportunity for Addu to expand their economy within the southernmost atoll.
Minister also added that once the flights commence between Africa and Maldives, it will in turn increase the number of tourists traveling to resorts in the south of Maldives. National flag carrier, Maldivian, in addition to TMA will commence routes from Gan to the resorts in south.
An estimated number of 9,000 tourists visited the Maldives from South Africa last year.
Popular tourist spots in Addu include well-known tourist hotel Equator Village, Shangri-La Resort, as well Herathera Resort. Addu City currently boasts the capacity of 800 tourist beds.
A number of imports are made to the Maldives from Africa, including meats and vegetables. Introducing direct flights from Africa is expected to expand the import trade along with aid exports from the Maldives.
According to the tour operator in charge, 'Air Tour Operators', Addu caters to many facilities required by tourists flying to this destination. They further highlight African Airways being a world renowned airline and that the introduction of these flights gives access to passengers and tourists from all over the world to visit Maldives.