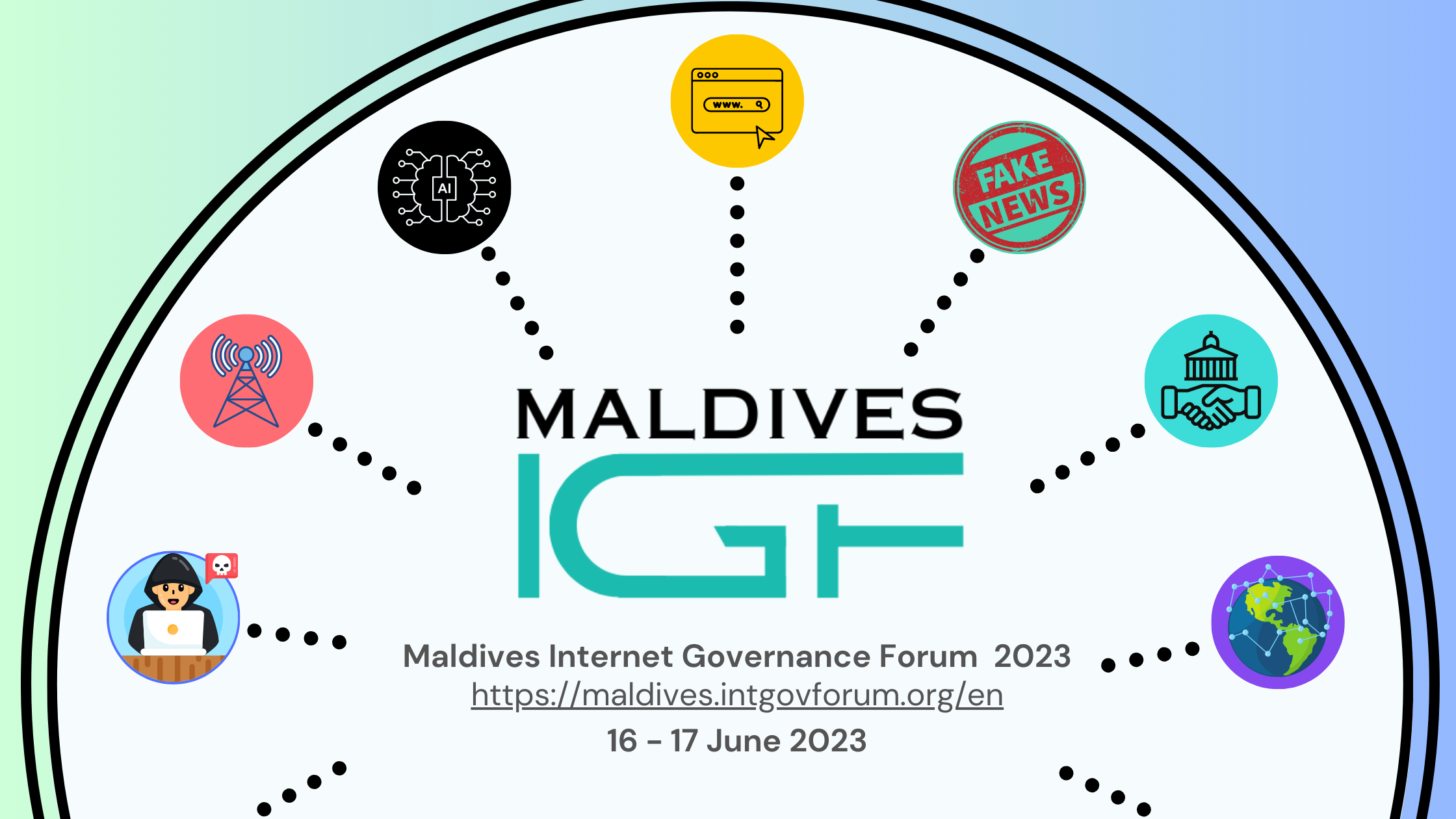 The first ever Maldives Internet Governance Forum (Maldives IGF) will be held on the 16th-17th of June 2023, at the Maldives National University (MNU) Main Campus. The forum will adopt a hybrid format, allowing both physical attendance and virtual participation via an online platform.

The Maldives Internet Governance Forum is a platform that aims to bring together stakeholders from various sectors to discuss and exchange ideas on crucial Internet governance issues. This initiative gathers diverse participants, including government representatives, civil society organisations, the private sector, technical communities, and academia. The goal is to foster collaboration, idea-sharing, and problem-solving in response to the rapidly changing digital landscape. The Maldives IGF aligns with the global Internet Governance Forum.
This year's theme for the Maldives IGF includes:
Ensuring Cybersecurity and Resilience: Discussions on online safety, malware threats, ransomware, and scamming awareness could all be grouped under this theme, with a focus on how the government and private sector can collaborate to address these issues.
Bridging the Digital Divide: Topics related to internet pricing, internet reach, digital fragmentation, and the digital divide, exploring ways to increase access to digital technologies for all.
Emerging Technologies: Discussions on blockchain, AI, IoT, smart cities, and cloud technologies, with a focus on how these technologies can be harnessed to benefit society while minimising potential risks.
Combating Misinformation and Promoting Freedom of Expression: Discussions on gendered online hate, censorship, internet shutdowns, net neutralisation, public awareness, and misinformation, exploring ways to ensure that digital platforms are safe, open, and inclusive spaces for all.
Strengthening Data Governance and Ownership: Topics related to data governance, data ownership, data sovereignty, and open data, exploring ways to ensure that data is used ethically and transparently while empowering individuals and communities to take control of their own data.
Fostering Innovation in the Digital Economy: Discussions on the digital economy, digital citizenship, payment IPS (Fintech), and research & analytics, exploring ways to promote innovation and entrepreneurship in the digital space, while ensuring that these developments benefit society as a whole.
Registration is now open for organisations interested in hosting sessions at the Maldives Internet Governance Forum (IGF). Organisations wishing to participate and host a session to register using the following link:
Registration Link: https://airtable.com/shrWQD6SyIrNUd3jp
Those who wish to register and participate in the sessions will be required to register: https://airtable.com/shrLoX9Iroo8h4PWj
The Maldives Internet Governance Forum (IGF) 2023, led by an executive committee and an advisory committee representing diverse sectors, this year the forum hosted by Women in Tech Maldives.
To learn more about the​​ Maldives Internet Governance Forum, visit https://maldives.intgovforum.org/en