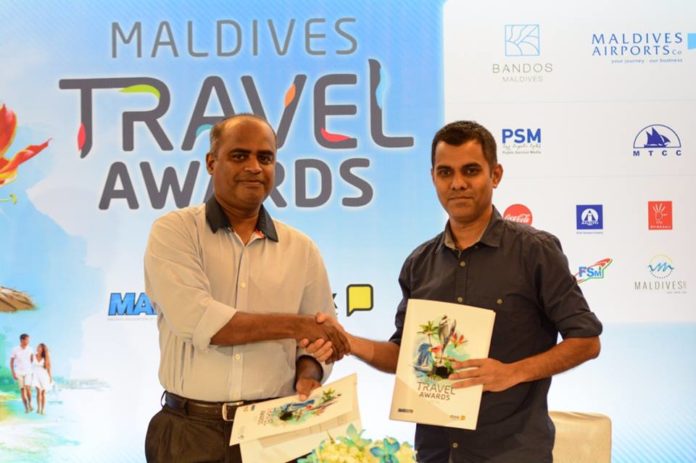 by Zakwaan Naseem
The longest running travel awards in the Maldives; Maldives travel Awards or commonly known as the MATATO Travel Awards has signed on the partners and sponsors for this year's awards. Many of the top companies in the country have partnered in this year's awards which is planned and organized by Think Advertising.
PARTNERS OF THE TRAVEL AWARDS ARE
– Main Sponsor: Maldives Airports Company Limited is the Main Sponsor for this year's edition of the Awards. This is the 5th year running that the nation's international airport – the gateway for the travel industry – is being part of this prestigious award label.
– Conference Host: Bandos Maldives – being one of the pioneers in the travel industry with years of experience in hosting conferences and meetings – as the Conference Host provides a historical venue for the Industry Conference of Maldives Travel Awards.
– Official Media Partner: Public Service Media is the Official Media Partner for the 5th time since the Awards began in 2012
– Official Hotel Partner: Hotel Jen by Shangril-La is the Official Hotel Partner for the awards and will host the functions to be held in the Capital City.
– Official Airline Partner: Etihad Airways, the fastest growing airline in the history of commercial aviation, is the Official Airline Partner of the event.
– Silver Sponsor: Allied Insurance Company of the Maldives Pvt Ltd joins the award label as a prestigious Silver Sponsor.
– Silver Sponsor: Fuel Supplies Maldives also joins as a Silver Sponsor providing an enormous and crucial element in fueling the industry with their years of service.
– Telecommunications Partner: Dhiraagu, the largest telecom operator in the country is the Telecommunications Partner.
– Official Beverage Partner: Coca Cola
– Sound and Lights Partner: PopJoy Pvt Ltd
– Official Band: Equatic Vibe
– Online Media Partner: Mihaaru
– Travel Media Partner: MVHotels
– Associate Partner: Maldives Getaways
– Associate Partner: Maldives.com
– Online Travel Website: Maldives.net.mv
The final output of the results will be provided by the independent audit firm KPMG as the Independent Service Provider. This is the first time in the Maldives that an independent audit firm provides its professional services in such an event.
There are 243 nominations for this year's annual MATATO awards which have been going on annually for the past five years. In the news conference held the function held tonight at Hotel Jen, president of MATATO Mr. Abdulla Giyas has stated that there are an addition if five new categories this year and the awards are receiving a lot of positive reception from the players in the industry.
The nominations we received this year has seen a 100% increase compared to that of last year's awards. There is a lot planned to promote the awards this year. This includes displaying last year's winners' trophies at the resorts and a countdown show featuring last year's winner in partnership with PSM," Abdullah stated at last nights' event.