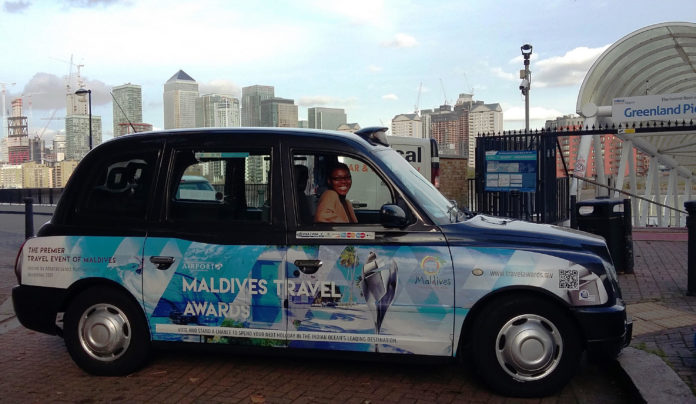 MATATO has launched a remarkable marketing campaign in London for Maldives Travel Awards, in the occasion with World Travel Market, which starts on 6th November 2017. For this campaign, popular black cabs of London are wrapped with colours of Maldives Travel Awards, displayed along with spectacular sights of the destination.
This is the first time that MATATO has launched an exclusive marketing campaign abroad for Maldives Travel Awards, after its international debut two years ago in Dubai. With three editions introduced to the Awards in 2017, and with increasing number of nominations and participation from the industry, MATATO has stepped up efforts to market this platform internationally. 2017 marks another historic year for the Awards with, in terms of participation and also in terms of marketing the awards. Apart from the advertisements in the international airport and in the capital Male', Maldives Travel Awards' brand presence is stronger than ever, on television, print and online media and on social media networks.
"Since the launching of the Awards six years back, we had the vision to develop this product as a marketing platform for the participants and winners of the Awards. At the same time, we are also strengthening our presence in local and international travel marketplace, and in the news and social media networks, which in turn also increases the exposure and return for our sponsoring partners" stated Abdulla Ghiyas Riyaz, President of MATATO. "This year we have gone beyond what we had promised for our sponsors in terms of exposure and marketing opportunities, with the Awards"
The marketing campaign in London for Maldives Travel Awards will continue after WTM for a period of one month.
Maldives Travel Awards is the most prestigious recognition awarded to the travel industry of Maldives, organized and presented by MATATO. More than 450 nominations were submitted for the three edition of the Awards. The Guesthouse Edition alone attracted more than 80,000 votes via online and SMS. Winners in this edition were awarded in Maafushi on 30th October 2017.
The Gala edition of the awards, which is exclusive for resorts, airlines and liveaboards, will be hosted in Adaaran Select Hudhuranfushi on 23rd November 2017.