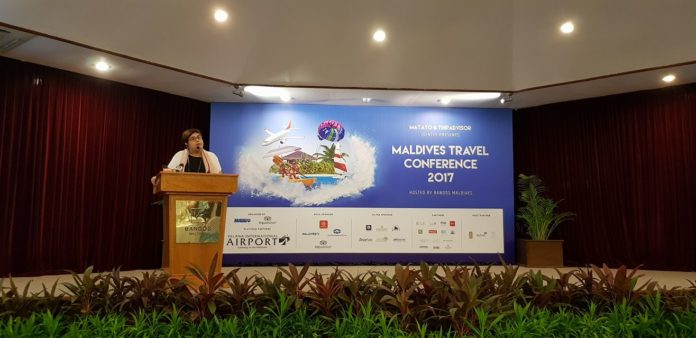 Maldives Travel Conference 2017, organised by Maldives Association of Travel Agents and Tour Operators (MATATO) together with TripAdvisor and hosted by Bandos Maldives was held on 23 November.
The invitation-only conference kicked off at 11 am, with welcome and introduction to the event by Hostess of the conference Shafiyya Steinhilber. A speech by the president of MATATO, Mr Abdulla Ghiyas Riyaz followed. In his speech, Mr Riyaz shed light on the roles and works of MATATO and that of the local travel agents in promoting Maldives tourism. He applauded the support received from the different tourism organizations in Maldives and abroad in Marketing the country as a destination. Speaking about the growth of tourism in Maldives in the past years he said: "there has never been a more exciting time for tourists visiting Maldives than now". He concluded his speech by thanking the attendees, speakers and sponsors of the event.
Next Keynote speaker, Ms Sarah Mathews, the Chairman of PATA, Head of Destination Marketing APAC, TripAdvisor, spoke about managing the right traveller to the right path and about evaluating success through economic impacts on community and destination instead of doing it though arrival figures.
Following her was keynote speaker Dr Abdulla Mausoom, General Manager of Sun Island Resort & Spa, who gave a destination review from a hoteliers' perspective. He emphasised the impact of individual resort reviews on the destination as a whole and concluded by saying that he hopes hotelier efforts will help make Maldives reach more of world destination top lists.
Ms Halona Padiachy, the Director of PATA gave the next keynote speech. She started with an overview of Pacific Asia Travel Association (PATA) and went on to shed light on tourism in Maldives in terms of Asia Pacific region. "Maldives is the fastest growing destination (in Asia Pacific) and is second in the growth of receipts. By 2021 1.8 million visitors are expected to visit" she said. She also said that hopefully, they (PATA) can host a larger scale such event in future. Both Ms Halona and Ms Sarah commended Mr Riyaz for his passion and dedication towards promoting Maldives as a destination.
The final keynote speaker was Mr Damian Cook, founder and CEO of E-Tourism Frontiers, who spoke a digital tourism, impacts of digital tourism and changes within the tourism industry.
After lunch, Ms Sarah and Mr Damian engaged participants with information on traveller profiling, digital marketing, destination branding, sustainable growth of a destination, crisis management and much more. The conference concluded at around 4 pm.
This is the second edition of Maldives Travel conference. The first edition of the conference was successfully introduced by MATATO in 2016, as part of its Maldives Travel Awards.