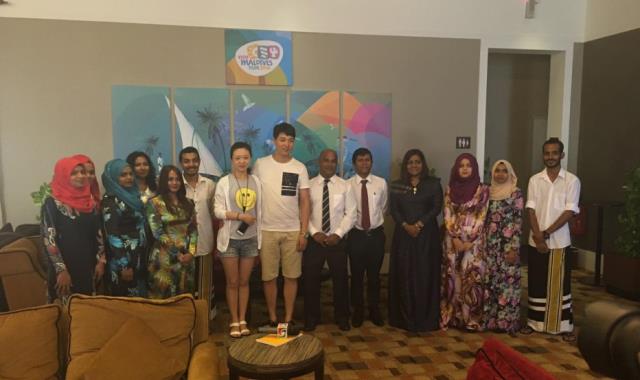 Maldives crosses another milestone in the tourist arrival target of Visit Maldives Year with the welcoming of 750,000th tourist this morning. Mr. Wang Shuai, a Chinese tourist, was the distinguished 750,000th tourist to the Maldives who arrived with his family at 06.53 hrs this morning on a Maldivian flight from Xian.
Wang Shuai and his family were warmly welcomed by the Honorable Minister of Tourism, Mr. Moosa Zameer Hassan, H. E. Mr. Wang Fukang the Ambassador of China to Maldives together with senior officials from the tourism industry, Ministry of Tourism, Maldives Marketing and PR Corporation (MMPRC), Maldivian, Maldives Airports Company as well as the Maldives Immigration, at a ceremony held at the airport VIP lounge. Wang Shuai was presented with a commemorative plaque and a holiday in the Maldives sponsored by Meeru Island Resort & Spa.
Upon landing of the Maldivian flight, the guest was welcomed at the arrival terminal by officials of MMPRC in colourful Maldivian traditional attire with a welcome bouquet, and escorted to the arrival lounge. Mandhira Boduberu Group joined in escorting the family to the VIP lounge with a performance of traditional boduberu music and dance at this colourful event. This is the third event held this year to celebrate the achievement of arrival milestones of Visit Maldives Year 2016. During the interview given to the media today by Wang Shuai, he expressed his excitement towards being the 750,000th visitor to Maldives. On this second trip to Maldives, he shared that his first trip to Maldives was for his honeymoon. He is also thrilled to have received the opportunity to experience Meeru Island Resort & Spa with his family during his next trip.
One of the important targets of Visit Maldives Year 2016 is to achieve 1.5 million tourist arrivals this year. Visit Maldives year events are being undertaken throughout the year locally and internationally. The biggest international event being the partnership with ITB, the biggest international tourism fair held in Berlin, Germany as the host country. Upcoming events include Maldives Photography competition and Surfing Competition to be held in the Maldives. Tourism being the most important industry for Maldives, the VMY2016 campaign is expected to strengthen the industry giving more opportunities to locals to promote their products and services in a greater
China being the biggest source market to the Maldives, and one of the biggest booming outbound markets in the world, it is a great privilege for the Maldives to honour a Chinese tourist as the 750,000th tourist. This enhances the opportunity for the Maldives as a tourist destination to the further strengthen and promote positive awareness in the Chinese market.
Since 2010, China has maintained its position as the no.1 market to Maldives with more and more Chinese tourists visiting Maldives each year. Chinese currently contributes to 25.4% of the total market share, and is the first Asian market to take the no. 1 position in terms of arrivals.