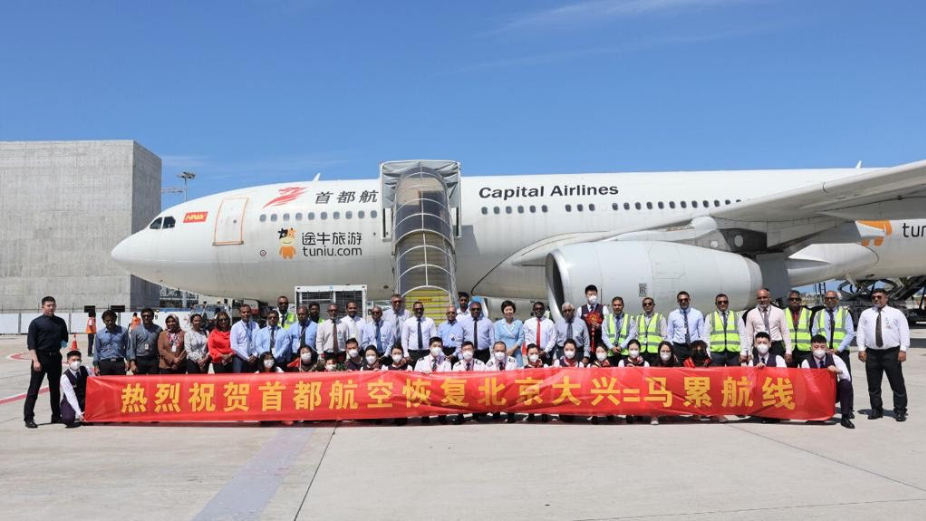 The Maldives has welcomed back Chinese tourists after a nearly three-year hiatus caused by the Covid-19 pandemic. On January 18th, the Maldives received 198 Chinese tourists who arrived on the first flight from China operated by Beijing Capital Airlines. This marks the first time a Chinese airline has operated a direct flight to the Maldives since March 2020.
The arriving tourists were greeted with traditional boduberu, and a special gift pack along with flowers in celebration of welcoming the first visitors from China to the Maldives in the past 3 years. The event was joined by a high-level delegation, including Ministers, Ambassadors and other high-level executives from the Government of the Maldives and China.
Beijing Capital Airlines plans to operate four weekly flights to the Maldives until February 22nd, direct from the capital city of Beijing. Two other airlines, China Eastern and BEOND, are also planning to relaunch flights to the Maldives in the coming months. China Eastern is set to begin scheduled flights on January 28th, with flights every Saturday.
Tourism in the Maldives is expected to receive a significant boost once Chinese tourists start returning to the country. In 2019, 267,875 Chinese tourists visited the Maldives, making up 17.5% of the record 1.7 billion tourist arrivals to the island destination that year. According to the Ministry of Tourism, China is expected to account for at least 10% of total tourist arrivals to the Maldives in the coming months. The Maldives Travel Agents and Tour Operators Association predicts that the number of Chinese tourists visiting the Maldives will sharply increase during China's "Super Golden Week" early in the year, which combines two public holidays including the Lunar New Year. This year's Chinese New Year falls on January 22nd.
China remains the world's largest outbound travel market, with Chinese tourists spending US$255 billion globally annually. The lifting of travel restrictions has spurred a surge in bookings as Asia's tourist hotspots prepare for a boom and airlines seek to quickly ramp up capacity.