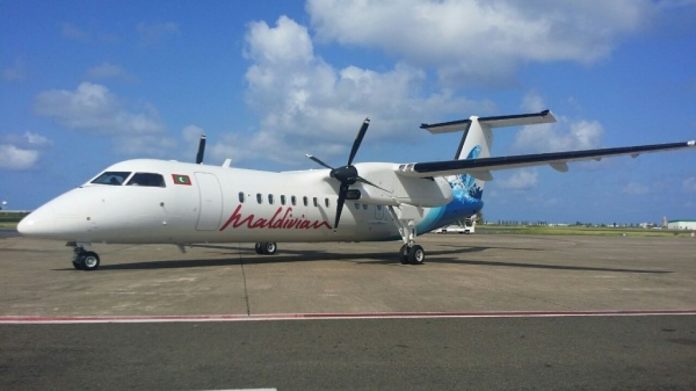 National carrier Maldivian has announced plans to add two more aircrafts into its growing fleet in order to expand its domestic operations.
Managing Director of parent company Island Aviation Services (IAS) told local media that due to new domestic airports opening up as well as more hotels and resorts in the works is enough evidence the need to boost their domestic operations. A 50 seater Dash 8-300 is expected arrive in Maldives by mid-November, as well as an additional two Dash 8, are expected to join their fleet in 2018.
While Maldivian currently fly to all 10 domestic airports in the Maldives, its international operations have expanded covering India, Bangladesh, Thailand, China. Maldivian currently operates a fleet of two Dash 8-200 series, seven Dash 8-300 series as well as an Airbus 320 and an Airbus A321. Maldivian uses Dash 8 series mostly for domestic ferrying of tourists and locals while the two Airbus aircrafts primarily serve the airlines international routes.
Maldivian is also looking into expanding their sea plan operations. While the airline currently runs their operation on nine DHC-6 Twin Otter aircrafts for their sea plan operations, they have launched an ambitious joint venture to use single engine Kodiak 100s with Setouchi Holdings.