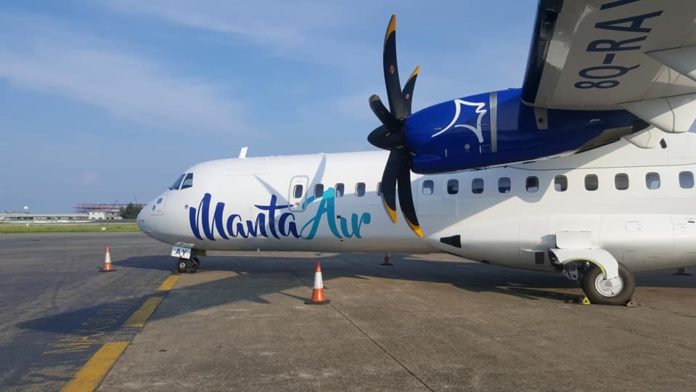 Manta Air, the upcoming new experience in the skies in the Maldives, welcomed its first edition to its fleet on 12th November.
A  special  function  was  held  at  Velana  International  Airports  Maamehi  Executive  Lounge,  in  partnership  with  Maldives  Airports  Company  Pvt  Ltd, to  welcome  the  first  aircraft  of  Manta  Air  to  the  Maldives. Top officials from the Civil Aviation Authority, National Air Security, Customs, Immigration and  the Maldives Airports Company Private Limited attended the ceremony to witness the landing of the new  aircraft.
The first edition to Manta Air's fleet is the latest generation of ATR's – the ATR 72J600. The brand new aircraft benefits from having the most modern and comfortable turboprop cabin. Manta Air has also taken the unusual step to customize seats to provide the best comfort with the additional legroom for its passengers.
Manta Air's Chief Executive Officer, Mr Mohamed Khaleel said that "At Manta Air our goal is to provide all our customers with a reliable, friendly and hassleJfree travel experience. Our brand new aircraft will  have more leg room and quieter cabins than other carriers and we will make sure everyone on board is delighted with their experience. We wish to make seamless domestic air travel accessible to as many people as possible."
The arrival of Manta Air's comes amidst increased demand by the hospitality industry to expand the air  transport network in the Maldives.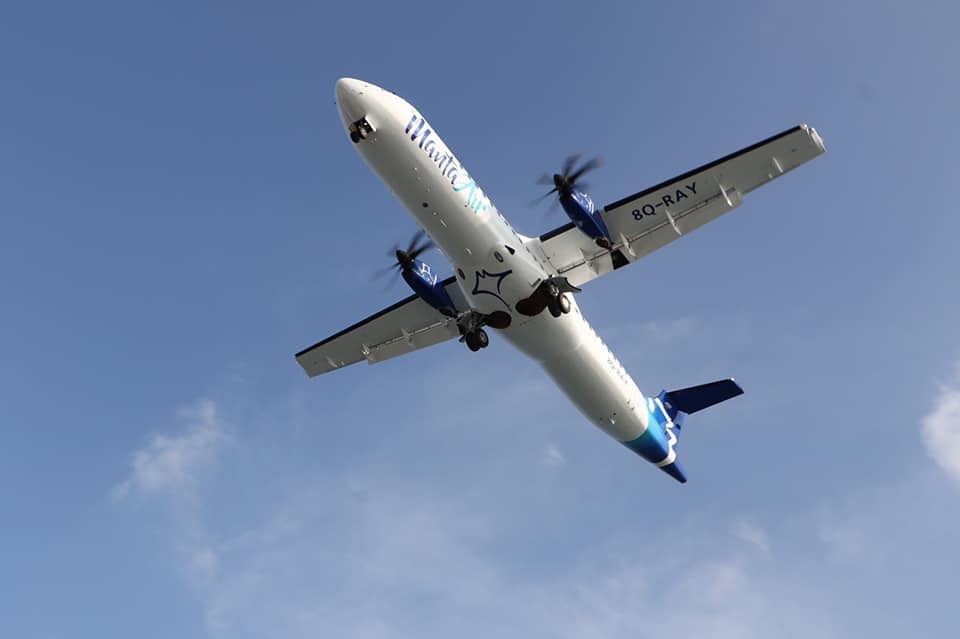 The rapid growth of the Maldivian tourism industry in the past few years has raised the significant key role for the domestic aviation industry to meet demands and challenges faced by the country's largest economic industry, tourism.
Over a million tourists from across the globe visit the Indian Ocean island nation every year to holiday in  one of the 130 plus resorts and over 400 guesthouses located in all corners of the country. The multi-billion dollar tourism industry, which is the country's main economic activity, relies heavily on the domestic transport infrastructure, especially air travel.
Manta Air, the new domestic airline in the Maldives, is ready to begin its operations soon, with an aim to meet the demands faced by the tourism industry while providing a new experience in the skies for its guests.
About the Manta Air:  
MantaAir was founded in 2016 and is a joint venture between Deep Blue Private Limited, a local company with multiple investments in the tourism sector and Mr. Umar Mohamed Maniku. The company was created to cater to the need for more air domestic transport options and to support the rapid development of domestic airports and the fast paced expansion of resorts and guest houses across the country.