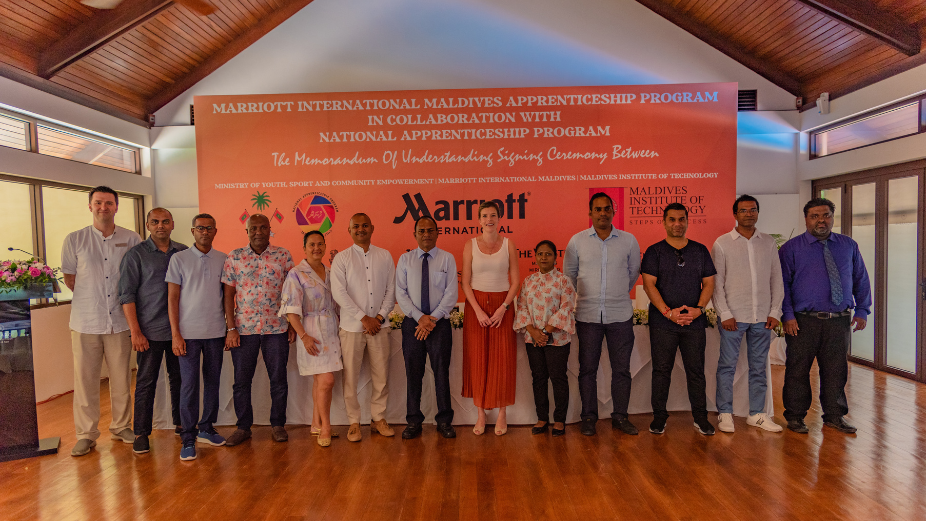 Marriott International Maldives, the Ministry of Youth, Sports, and Community Empowerment, and Maldives Institute of Technology (MIT) signed a Memorandum of Understanding (MoU) on 7th March, 2023 to launch the Marriott International Maldives Apprenticeship Program for Maldivian youth in the tourism industry. The partnership aims to build the skills of young people and prepare them for the job market through apprenticeship programs that will provide a unique opportunity for the youth to gain valuable work experience in the Maldives' booming tourism industry.
Marriott International is the first International Hospitality brand to collaborate with the government apprenticeship program representing a milestone for both the government and Marriott International in their efforts to build local talent for the hospitality market. The purpose of the program is to train young people, especially the marginalised youth, in various skills to allow them to become job-ready and productive members of society. Under the Marriott Apprenticeship Program, MIT will provide the theoretical part of the program, while the participants will receive work experience at Marriott International resorts in the Maldives. The first round of the program will accommodate 50 people and will begin in late April or early May, participants will receive a level-3 certificate upon completion of the program, which will adhere to the Maldives National Skills Development Authority (MNSDA) national competency standards.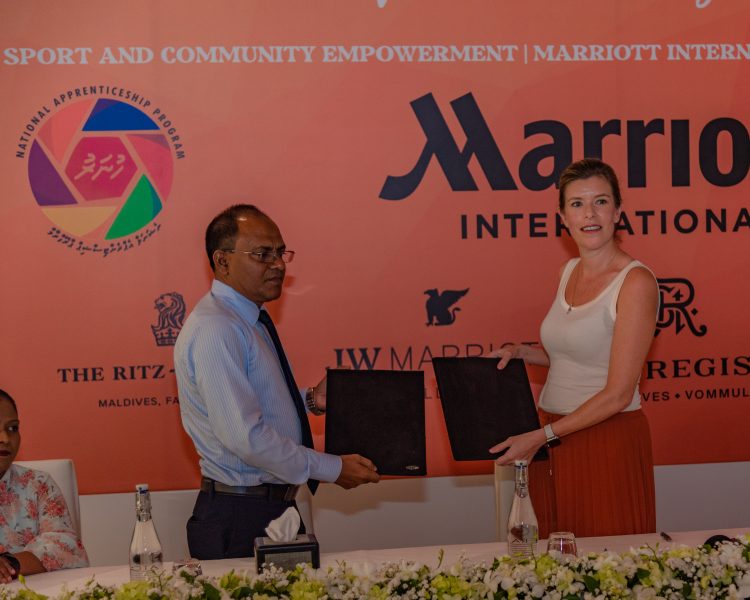 The MoU was signed at a ceremony held at Sheraton Maldives Full Moon Resort and attendees of the event included Hussain Shareef, Permanent Secretary at the Ministry of Youth, Sports, and Community Empowerment, Saudath Afeef, Director at the Ministry, Adam Haleem, Director of Programs at MIT, and Emma Jones, Area Director of Human Resources, Marriott International – Singapore, Malaysia, Maldives.
Marriott International will offer youth training opportunities at its portfolio of seven resorts in the Maldives. They include The Ritz-Carlton Maldives, Fari Islands, The St. Regis Maldives Vommuli Resort, JW Marriott Maldives Resort & Spa, W Maldives, Le Meridien Maldives Resort & Spa, Sheraton Maldives Full Moon Resort & Spa and The Westin Maldives Miriandhoo Resort. A total of 250 opportunities will be provided for youth in nine different fields for five years under the agreement.
Emma Jones, Area Director of Human Resources, Marriott International – Singapore, Malaysia, Maldives, expressed her delight at the partnership with the Maldives government, stating "We are both honoured and thrilled to embark on these new partnerships which will greatly assist in one of our key Talent strategies, which is to hire and train local Maldivians. This National Apprenticeship Program, which we are adopting and tailoring as our Marriott Apprenticeship Program, will assist our resorts to secure talent from a young age, to grow home, nurture, train and develop them to be our future leaders." She added.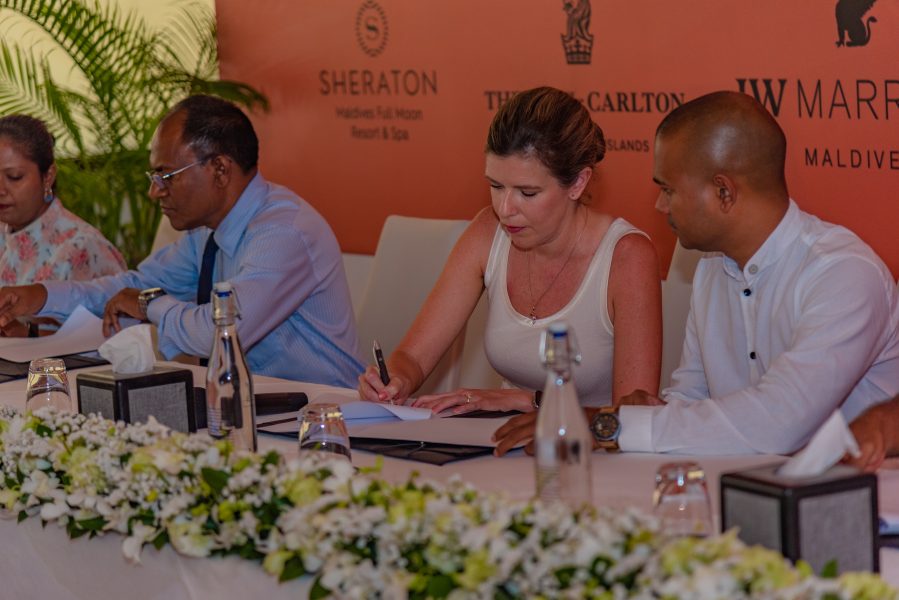 "This collaboration will enable us to identify local talent and contribute to their inclusion to the Maldivian hospitality market as a Take Care initiative pertaining to our Corporate Social Responsibility at Marriott International. We welcome and appreciate these new partnerships and look forward to embarking on this journey with MIT & the Ministry of Youth. We are confident that with our continued collaboration, we can build a very successful pipeline of future local talent."
The signing of the MoU represents a significant step towards building a successful pipeline of local talent in the Maldives.