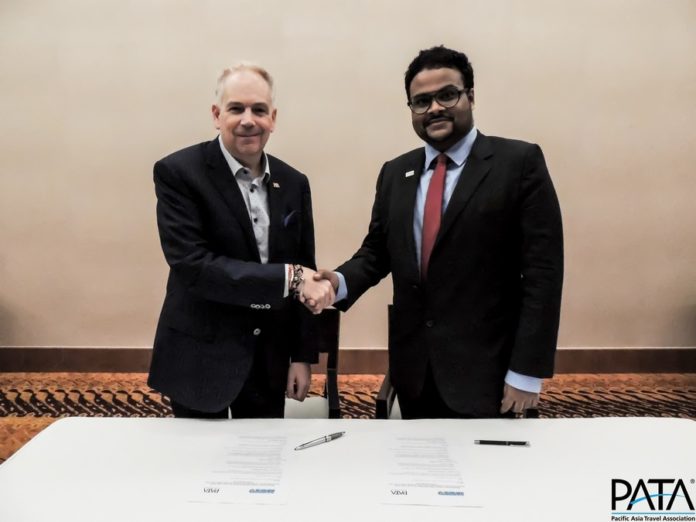 Maldives Association of Travel Agents and Tour Operators, MATATO and Pacific Asia Travel Association, PATA has signed a Memorandum of Understanding (MOU), to extend cooperation and share opportunities and resources between the two organizations. The MOU was signed by Mr. Abdulla Ghiyaz, President of MATATO and Mr. Mario Hardy, CEO of PATA, on
10th September 2016, at a special event hosted during the PATA Travel Mart 2017 in Jakarta, Indonesia.
This MOU is a result of close collaborations between PATA and MATATO in the recent years, to seek more opportunities for Maldivian tourism sector, through PATA's extensive international travel network and programs. PATA is one of the leading tourism Organizations in the world, with over 8000 members and 43 active PATA country chapters worldwide. "Signing of this MOU marks a success in our efforts to build corporation with international organizations and institutes, which we believe, in the future will add value to our programs and projects. Partnership with PATA gives us access to remarkable resources and opportunities." Said Mr. Ghiyaz, President, MATATO. "Going ahead, MATATO will be more engaged with PATA events and programs worldwide, and we will be working together to host one of PATA events in
Maldives, in a near future".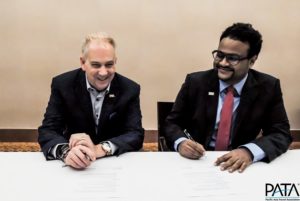 Under this MoU both organisations will extend cooperation in areas of research and publication, advocacy, training and human resource develop and destination marketing. The two organizations will share selected intelligence and proprietary research and produce joint research or position papers. MATATO and PATA will also work together to revive
PATA Maldives chapter and bring PATA affiliated programs to Maldives.
"This agreement with MATATO helps members of both associations to expand their networks, insights and business. Through this partnership we will work together to find new avenues and opportunities in producing tangible and mutually beneficial benefits for both our organizations." Said Dr. Mario Hardy, CEO, PATA.
Market data, research, networking opportunities in emerging markets and having accessibility to leading travel events that shape the global tourism, are some of the benefits that MATATO members will have access to through this MOU. MATATO also believes that corporation affiliations with international organizations, as PATA will affirm the organizations' foothold as a strong advocator in the travel industry of Maldives.