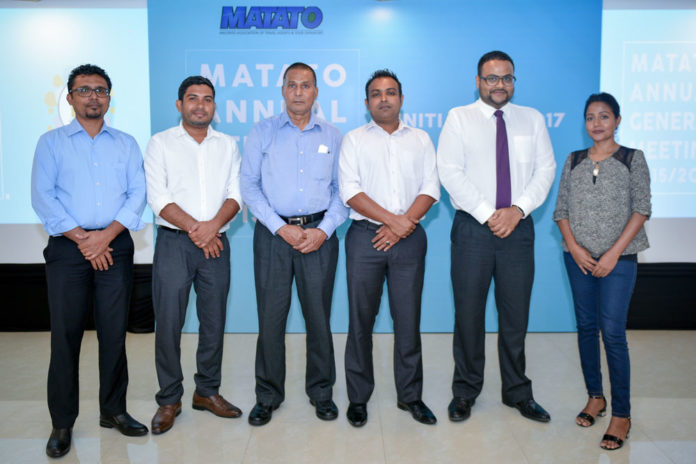 25th September 2016, Male: With a woman executive for the first time, Maldives Association of Travel Agents and Tour Operators, MATATO has elected a new executive board tonight, during the Annual General Meeting of the organization hosted at Champa Central Hotel. Abdulla Ghiyaz Riyaz was reelected as the President for a second term, while Abdulla Suood, and Ahmed Shiham, were elected as vice presidents.
MATATO's election is held once in every three years. With the announcement for Annual General Meeting, the secretariat of MATATO announced the Call for Executive Board nominations on 25thJuly 2016. During the nomination period, MATAO received minimum number of nomination required for each elected post of the Executive Board. Each member company can nominate for one executive post, and nine member companies nominated their representatives for the Executive Board. Since there was no competitive nomination, a collective vote for the nominated Executive Board was taken for approval. Motion to elect the new Executive Board was passed with majority vote of 29 members present at the AGM.
Abdulla Ghiyaz Riyaz
President
Inner Maldives Holidays
Abdulla Suood
Vice President
Tropical Isle Collections
Ibrahimm Shiham
Vice President
Yacht Tours
Ali Ahmed
Treasurer
Vista Company &Travel Services
Aminath Nina Nizar
Board Member
Sun Travels and Tours
Mohamed Khaleel
Board Member
Reollo Travels
Ahmed Fiyaz
Board Member
Pearl Travel Service
Khathim Hassan
Board Member
Island Pearl
Mohamed Jinan
Board Member
Voyages Maldives
With the election of the new Executive Board, MATATO also celebrate the election of first woman executive to MATATO governing board since its establishment in 2006. Speaking after the election, newly elected president, Abdulla Ghiyaz projected an ambitious vision for the organization for the term ahead.
"We intend to embark on programs and projects that will bring real change, programs that will have significant impact on the growth of the Industry and the local communities" Ghiyaz said. "Meanwhile we are continuously developing the existing programs and projects to add value to our initiatives and advocacy efforts" he added.
Abdulla Ghiyaz also announced that in 2017 MATATO will be launching a nationwide campaign to promote Sustainable Tourism and seek benefits that will encourage local employment, entrepreneurship and engagement in the travel Sector. Under this campaign MATATO will launch an apprenticeship program in collaboration with the tourism industry, offering on the job experience for at 1000 students/gradu-ates or school leavers.
In addition, key initiatives of the organization for 2017, was shared at the AGM. Some of the highlights of MATATO 2017 calendar includes, International Literary Festival to be hosted in Maldives, Road Shows to China and India, launching of a travel agents insurance scheme, and launching of a third edition of Maldives Travel Awards; The People's Edition. MATATO will also be taking part in at least 10 International Travel Exhibitions in 2017.
The Annual General Meeting of MATATO was also attended by representatives from partner organizations and companies.