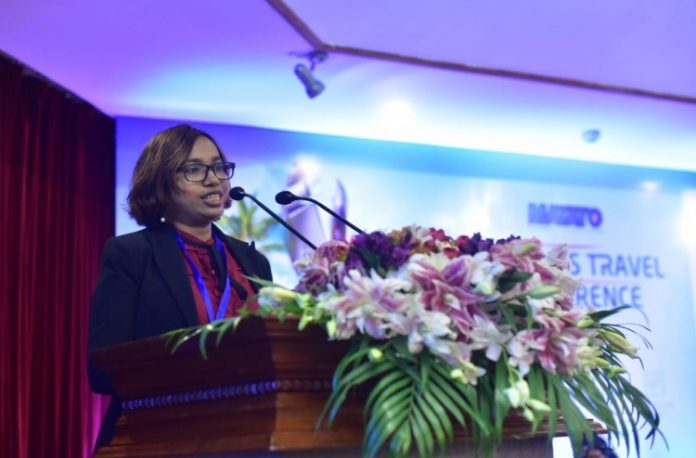 Maldives Association of Travel Agents and Tour Operators, MATATO has launched the First Edition of Maldives Travel Conference, at Bandos Maldives.
The conference was attended by 150 travel professionals (leading hoteliers, travel executives and representatives from key stakeholders) in the industry and had a significantly insightful line up of speakers for the conference, representing some of the leading executives and pioneers from local and international tourism community. The conference will be
Conference featured the following key topics of discussion.

1. Importance of Destination Marketing
This was led by Ms. Sonali Chatterjee, Sales Director India & South Asia, CNN International and she highlighted the importance of destination marketing with the importance of focusing on different target audiences to sell different products. She also highlighted the need for media and the importance of the media coverage and image of destinations.

2. Luxury Travel Trends in Maldives Context
The luxury travel segment was led Dr. Mario Hardy CEO, Pacific Asia Travel Association, (PATA) along with Prof. Dr. Walter Jamieson FCIP Director, Thammasat University, Thailand. They emphasized their talks mostly on how important critique and research are to the industry. The need for diversification and broadening the horizons in which the country's tourism operates without focusing on one group of travelers. They also highlighted the importance of story telling and promoting the culture to advertise and attract more visitors to the country.

3. Evolving Maldives Tourism Product
The speakers highlighted on how different segments of travel and how the type of traveler is changing in the industry. The reason for travel and the experiences that the country and the industry as a whole can provide should be changed accordingly to the trends. Data was presented onntrends in travelers across different studies
4. Tourism and Perception – Opportunities and Challenges

Each topic was dissected by a panel of four industry experts and representatives  shared their insight and thoughts on the topic. Following the presentations by the speakers, participants of the conference also joined the discussion through an open discussion with the panel of speakers for any given topic.
The conference was held in conjunction with and leading up to the Maldives Travel Awards by MATATO where the winners would be announced at a gala function held at Olhuveli Beach and Spa Resort on the 20th of November