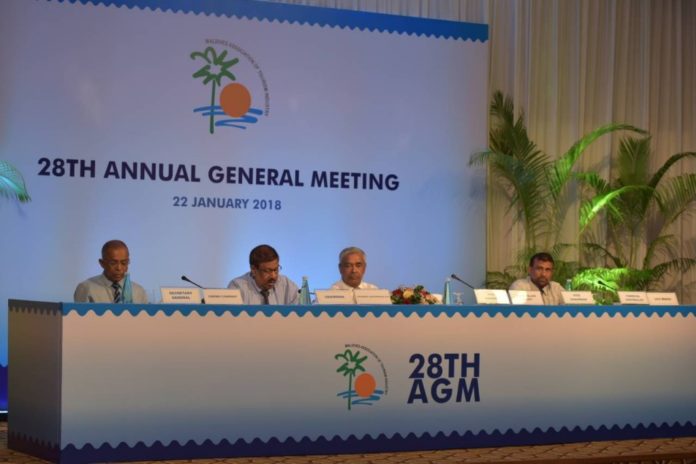 Maldives Association of Tourism Industries (MATI) has elected members for their board in their Annual General Meeting held on 22nd January 2017. The AGM took place in Kurumba Maldives.
Mr Mohamed Umaru Maniku was elected as the chairman of the board, with Mr Hussain Afeef (Champa Afeef) and Managing Director of Voyages Maldives, Mr Salah Shihab as Vice Chairmen of the board.
This is the first time in 19 years that Mr Qasim Ibrahim, founder of Villa Group, is not on the MATI board. Although Mr Qasim himself is not on the board, he is represented by his sons, Mr Ismail Siyan Qasim and Mr Ibrahim Siyadh Qasim.
In addition to this, Mr Ahmed Siyam Mohamed and Mr Ibrahim Nooraddeen will be representing Sun Siyam Resorts and Mirihi Island Resorts respectively. On behalf of Emboodhoo Village, Ms Aishath Neena Ahmed, and Mr Iyaz Waheed, who will be representing Universal Resorts, are elected to the board as well. Representing Maldives Airports Company Ltd (MACL) is Managing Director, Mr Adil Moosa, and Ms Zulaikha Manik will be representing Sun Travel.
Secretary General's post will be filled by one of the directors of Crown Company, Mr Ahmed Nazeer, followed by Mr Assad Ali and Ms Visha Mahir as Deputy Secretary Generals.
The financial controller for this year's MATI board is Mr Ahmed Hafeez.