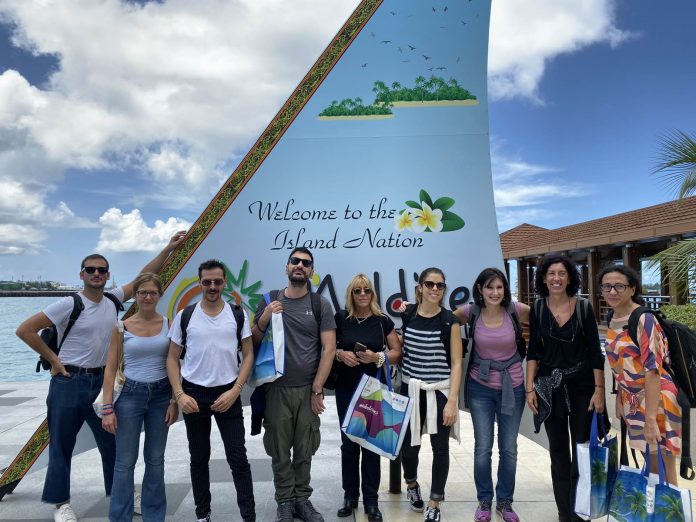 A team of journalists and social media influencers from Italy have arrived in the Maldives on 3rd November 2019.
The purpose of this trip is to create awareness of the destination in the Italian market while reaching a wider audience, feature the products of the destination and highlight the sustainable tourism initiatives practiced in the Maldives.
This is the 16th group to arrive in the Maldives as part of a series of familiarization trips organized by MMPRC this year. The aim of these trips is to further increase the exposure for the destination in the international markets. During their stay in the Maldives for the next 8 days, the team would experience the different types of products that are available in the Maldives, ranging from guesthouses on local islands to resorts and liveaboards.
The team will be staying at the recently opened resort, Raffles Maldives Meradhoo located in GA atoll, Sun Siyam Irufushi, local guesthouse, White Lagoon Guesthouse in Baa Fehendhoo and Voyages Maldives Gahaa Safari.
The team of writers belongs to well-renowned publications such as GQ Italia, Vanity Fair, Turista.info, Viaggi Corriere and Il Giornale along with two of Italy's most popular social media influencers, Roberto De Roza and Lorenzo Liverani. Their experiences in the Maldives would be featured as articles and photographs in their respective publications in Italy.
With the first group of tourists to the Maldives being a group of Italians, the market has remained amongst the most important traditional markets to-date. It has maintained its position in the top three markets to the Maldives, with a total of 97,375 arrivals being recorded till the end of September, which is a growth of 31.7 % compared to the same period of last year.
Through the series of FAM trips, MMPRC hopes to reach wider audiences in these markets to promote the Maldives.
MMPRC has participated in TTG, which is the leading tourism fair in Italy which was held last month followed by a Roadshow in Milan and Rome to develop and strengthen the presence of the destination within the Italian market.