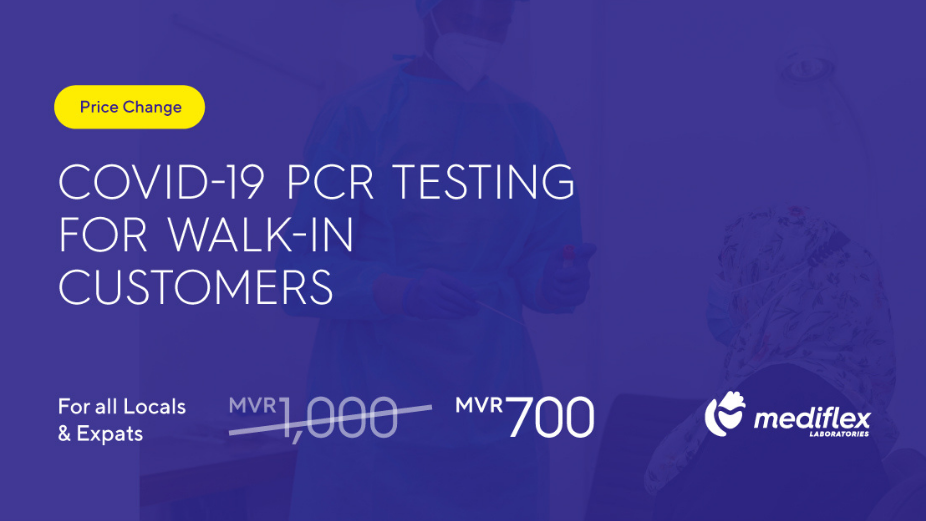 Mediflex Laboratories in Male' has announced a significant reduction in the rate for COVID-19 PCR tests.
Mediflex provides PCR tests using US FDA and WHO-approved kits powered by Thermofisher Scientific USA.
Mediflex, which previously offered COVID-19 PCR tests for MVR 1,000, has reduced the rate to MVR 700 for walk-in customers.
"We decided to reduce our rate in light of the recent surge in COVID-19 infections, to make it more convenient for the people in Male' to get tested. Compared to other market rates, our laboratory now offers the lowest rate for PCR tests," said Mediflex's chairman Ahmed Haikal.
Mediflex is located on the ground floor of M. Cottage, in front of Indhira Gandhi Memorial Hospital (IGMH), on Kanba Aisa Rani Hingun. The lab will be open 24 hours.
Mediflex guarantees results within 12 hours and customers who want express service for an extra charge will receive results within six hours.
Services from the lab are available to both locals and tourists. Mediflex collects samples sent by tourist establishments from Male', Hulhumale', and the Velana International Airport.
Mediflex can be contacted for additional information via phone call to 3308020 or via email to info@mediflex.mv. Additional information regarding Mediflex's services is also available on the company's website: https://www.mediflex.mv