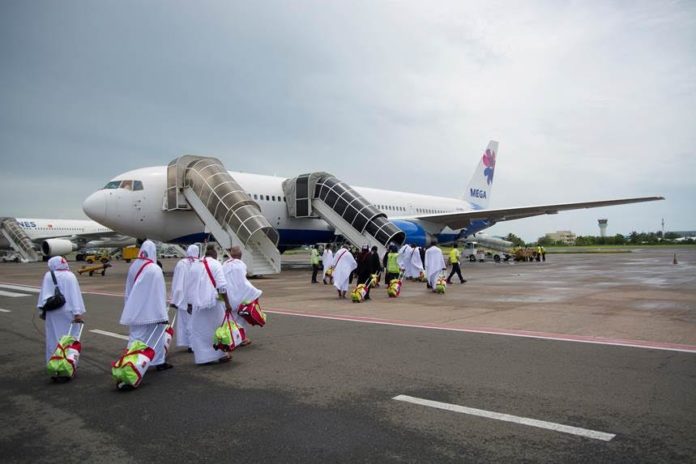 MEGA Maldives Airlines will be flying a total of 603 Maldivian passengers for their annual pilgrimage to the Holy City of Mecca. The passengers, representing three Hajj groups are due to depart from Male' to Jeddah on the 18th and 20th of August, and will be arriving back in Male' from Jeddah on the 19th and 20th of September. The three private Hajj groups of Mina, Zaee and Acro were allocated 201 passengers per group on MEGA Maldives flights.
As a Maldives-based airline, MEGA Maldives Airline was one of two airlines that submitted proposals to the initial bid invitation undertaken by the Ministry of Islamic Affairs in May this year. The main contract for carrying Hajj Corporation passengers was awarded to Saudia – the national airline of Saudi Arabia, despite MEGA Maldives Airlines offering the lowest rates. MEGA is the also the only airline that would fly directly to Jeddah from Male' without any transit.
MEGA Maldives Airlines in previous two years had played an important role in flying Maldivian passengers to both Hajj and Umrah from Male'. In 2014 and 2015, MEGA Maldives carried over 500 and 1700 passengers respectively. MEGA has also been working closely with representatives of the Hajj groups, to ensure that all the logistical arrangements are in place for their journey to Saudi Arabia.
As part of its long-standing commitment in making sure that Maldivian Hajj passengers are afforded the very best in customer services, the flights to Jeddah will have an all-Maldivian cabin crew. Furthermore, inflight dining and other services has been tailor-made for the preference of the Hajj passengers.
Schedule of Flights
Flight 1 – (Zaee and Acro groups)
18/08, MLE departure 1605 hrs, JED arrival 1955 hrs
Flight 2 – (Mina and Acro groups)
20/08, MLE departure 1605 hrs, JED arrival 1955 hrs
Flight 3 – (Zaee and Acro groups)
19/09, JED departure 2350 hrs, MLE arrival 0750 hrs
Flight 4 – (Mina and Acro groups)
20/09, JED departure 2230 hrs, MLE arrival 0630 hrs