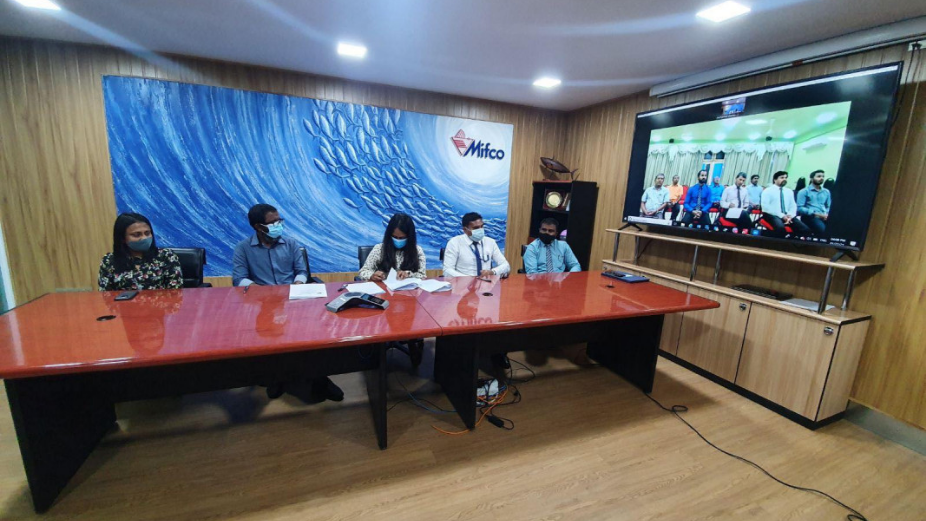 To ease the challenges faced by Northern fishermen, Maldives Industrial Fisheries Company (MIFCO) has signed an agreement to establish an ice plant in Hoarafushi, last Wednesday.
The signing ceremony was hosted virtually among MIFCO, Hoarafushi Council, and project financers Champa Brothers. The project is a model in partnership between state companies and the private sector.
CEO of MIFCO, Ismail Fauzee, speaks at the ceremony; shedding light on the project logistics. He announces that the work for the project will commence soon, and it will come to completion within 150 days of beginning.
The project is budgeted at MVR 4.2 million, and the operation will be fully carried out by MIFCO. The state-run company also reiterates that while they will be paying the lease for the land to Hoarafushi Council, profits from the operation will also be shared with the council as well.
The president of the island council, Mohamed Waheed, mentions that establishing a 25 metric tonne of Ice Plant will be a dream come true for the islanders, and the Hoarafushi society would benefit from this development.
Waheed also comments that the recent decentralization of councils meant they will no longer have to be dependent on the government, which also gives them more flexibility on resolving issues faced by the islanders.