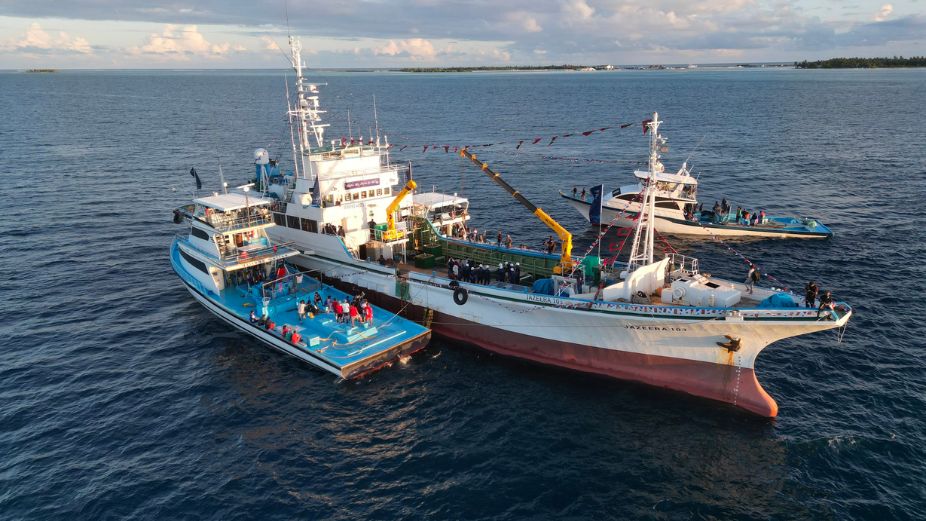 Maldives Industrial Fisheries Company (MIFCO) has announced the addition of a state-of-the-art fish processing vessel, Jazeera 103, to its growing fleet. The newly commissioned vessel was inaugurated by Minister of Finance Ibrahim Ameer, signifying a significant milestone for the fishing industry in the Maldives.
Jazeera 103 has been deployed with the aim of boosting fishing capacity in the region. With an impressive brine freezing capacity of 120 MT and a storage capacity of 420 MT, the vessel promises to revolutionize fish processing and storage operations.
During the launch ceremony held at the Kooddoo Fisheries Complex, Minister of Fisheries, Marine Resources, and Agriculture, Dr Hussain Rasheed Hassan, highlighted the pressing need for improved processing facilities in the southern region, particularly near Kooddoo in Gaafu Alifu Atoll. He emphasized that local fishermen in the area frequently achieve substantial catches under favourable conditions but face significant challenges when it comes to processing and preserving their hauls.
Minister Hassan acknowledged that southern fishermen have traditionally had to transport their catch to the Kooddoo Fisheries Complex for processing, resulting in increased fuel costs and logistical complexities. However, with the introduction of Jazeera 103, he expressed optimism that the proximity of the new vessel would alleviate these difficulties and enable fishermen to conveniently sell their catches within the southern region.
Addressing concerns raised by fishermen regarding the limited fish processing capacity at Kooddoo, Minister Hassan lamented the insufficient attention given to developing this crucial aspect of the industry in the past. He emphasized that the current government has made unprecedented investments in the fisheries sector to address these shortcomings and ensure its sustainable growth.
Furthermore, Minister Hassan revealed that the government has undertaken several initiatives to fortify the fisheries sector and provide fair and just incomes for local fishermen. In addition to acquiring Jazeera 103, the government has actively supported the installation of ice plants and Refrigerated Sea Water (RSW) systems on fishing vessels. These measures are designed to guarantee the freshness and preservation of the fish caught, enhancing their market value and reducing post-harvest losses.