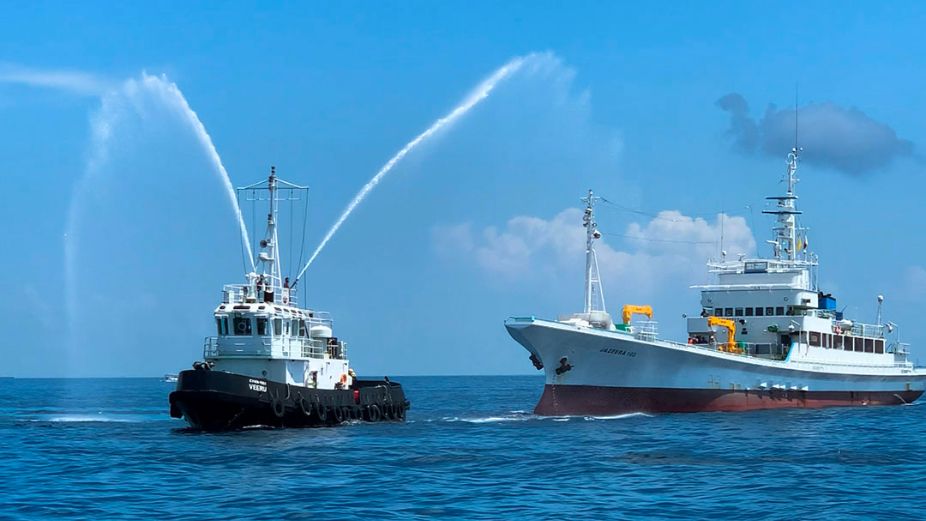 Maldives Industrial Fisheries Company (MIFCO) announced that its new vessel 'Jazeera 103' has arrived in the Maldives today.
The vessel arrived at MPL Port in Male' at 10 am this morning. According to MIFCO, the process of transferring the crew and getting customs clearance and localising has now begun.
The vessel was scheduled to leave South Korea on March 18. This boat is the first of the four vessels to be brought to the Maldives as part of MIFCO's capacity expansion efforts. Jazeera 103 is designed to store a total of 420 metric tonnes of fish, with the capacity to procure and freeze 120 metric tonnes of fish per day. The vessel also boasts two cranes on either side of the boat to easily weigh fish simultaneously.
MIFCO's COO Ismail Fauzee said, "Jazeera 103 will be easier for fishermen to travel to the best fishing areas during the fishing season. The other three vessels to be brought to MIFCO are already in the process of being procured, registered and docked in Thailand. Once these boats are in operation, each vessel will be able to purchase 60 tonnes of fish per day."
MIFCO has been making special efforts to enhance its fishing capacity in the Maldives. Efforts are also underway to increase the freezing and storage capacity of the centres, acquire more fishing boats and set up centres across the country.