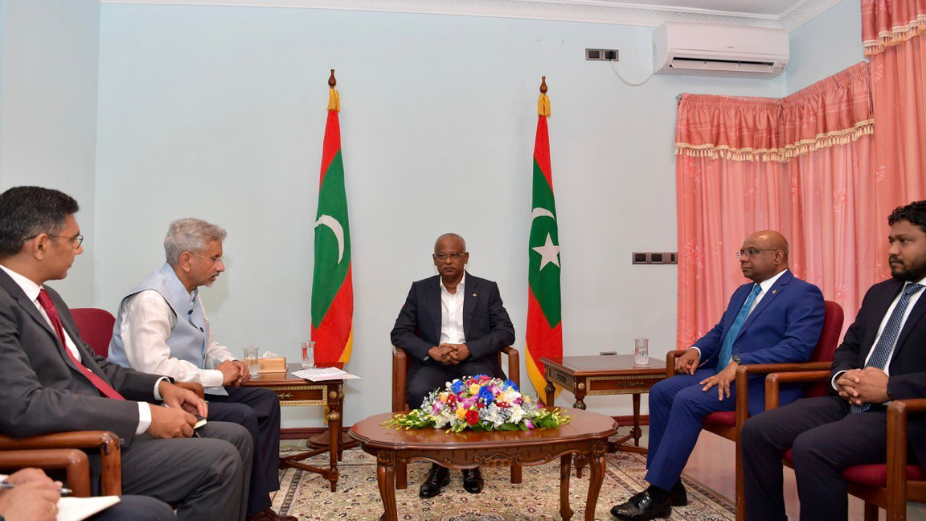 Minister of External Affairs of the Republic of India, H.E. Dr. Subrahmanyam Jaishankar on Sunday morning paid a courtesy call to H.E. President Ibrahim Mohamed Solih at the Equator Village in Addu City.
The President and the Minister discussed existing bilateral cooperation and the close friendship between Maldives and India. They agreed to continue efforts to further enhance and strengthen the bond between the two neighbouring countries through areas of mutual concern, benefit and interest in the global sphere.
H.E. President Solih recalled that India was the first country he visited shortly after assuming office, expressing gratitude for India's "Neighbourhood First Policy", stating that the Maldives continues to gain immense benefits from this policy. The President reiterated that the Maldives would always uphold its "India First" policy and that it remains committed to enhancing the close ties with India.
The President and the Minister also discussed areas of mutual interest such as COVID-19 relief, tourism cooperation, socioeconomic development, healthcare, fisheries, human resource development, security cooperation, and regional and international cooperation.
At the meeting, the President highlighted numerous developmental projects that are currently underway with assistance from India, stating that the visit by the minister would serve as an important reminder of the close friendship and strong partnership between Maldives and India. He then expressed his resolve to work closely with India to ensure that the Maldives-India relationship continues to prosper.
H.E. Dr. S. Jaishankar, Minister of External Affairs, is currently in Addu City, where he will attend in the opening ceremony of the National College of Policing and Law Enforcement and sign a number of agreements with the Maldives.
The Maldives established diplomatic relations with India on November 1, 1965. India was among the first countries with which the Maldives established diplomatic relations, following independence on 26 July 1965.