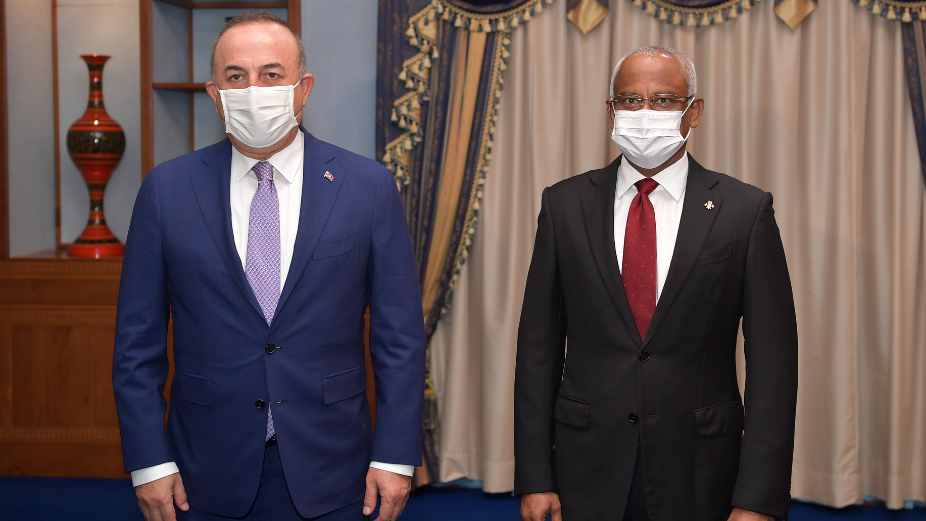 The Minister of Foreign Affairs of the Republic of Turkey, H.E. Mevlüt Çavuşoğlu on Sunday morning, paid a courtesy call on H.E. President Ibrahim Mohamed Solih.
At the meeting held at the President's Office, President Solih welcomed the Turkish Foreign Minister and conveyed well wishes to the President of the Republic of Turkey, H.E. Recep Tayyip Erdoğan. The Turkish Foreign Minister also conveyed well wishes to President Solih on behalf of the Turkish President.
During the discussions, the President and the Foreign Minister spoke extensively about the existing bilateral ties between the two allies, underlining that last year marked the 42nd anniversary of the establishment of formal diplomatic relations between the two countries. The President also stated that the Turkish Foreign Minister's visit to the Maldives denotes the importance the Turkish government places on enhancing the bilateral ties between both countries.
Furthermore, they deliberated on a variety of matters of mutual interest and value to both countries, including enhancing trade, air connectivity, tourism cooperation, fisheries sector development, infrastructure development, climate change adaptation and mitigation, and combating terrorism, radicalisation, and violent extremism. They also spoke about the five MoU's to be signed later today on strengthening the Maldives-Turkey bilateral relationship.
Speaking at the meeting, President Solih conveyed the gratitude of the government and the people of the Maldives to the Turkish government for the 20,000 doses of Sinovac vaccines provided to support the Maldivian government's Covid-19 inoculation drive.
The meeting concluded with President Solih and the Turkish Foreign Minister expressing their mutual commitment to continue working together for the common good of both countries. Diplomatic relations between the Maldives and Turkey were established on May 28, 1979.