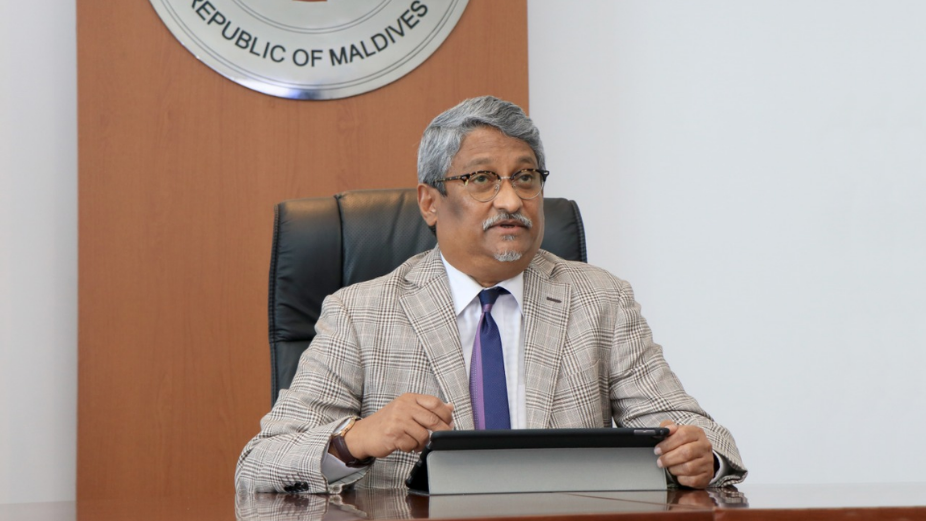 His Excellency Ahmed Khaleel, Minister of State for Foreign Affairs, has on Thursday participated virtually in the 14th Bali Democracy Forum. The hybrid meeting was hosted by the Government of Indonesia, under the theme "Democracy for Humanity: Advancing Economic and Social Justice during Pandemic".
State Minister Khaleel participated in the panel discussion concerning democracy and advancing inclusion. In his remarks, the State Minister highlighted the importance of the Forum for sharing experiences and best practices towards strengthening democratic systems. He also noted that the socio-economic problems that has accumulated over the years have been exacerbated by the COVID-19 pandemic. Furthermore, he emphasized the importance of ensuring women's inclusion and elaborated on the efforts undertaken by the current administration to ensure justice for women and girls. He also stressed on the importance of vaccine equity and urged countries to work together in multilateral solidarity with renewed motivation to recover from the pandemic.
US Secretary of State Antony Blinken, Minister of Foreign Affairs of New Zealand Nanaia Mahuta, Minister of Foreign Affairs of Turkey Mevlüt Çavuşoğlu and the UN High Commissioner for Human Rights Michelle Bachelet also participated in this discussion.
Founded in 2008, the Bali Democracy Forum is an annual international forum held in Bali, Indonesia. The Forum allows Ministers, Senior Government officials, experts and relevant organizations to come together and share valuable best practices and lesson learnt on building democratic societies.