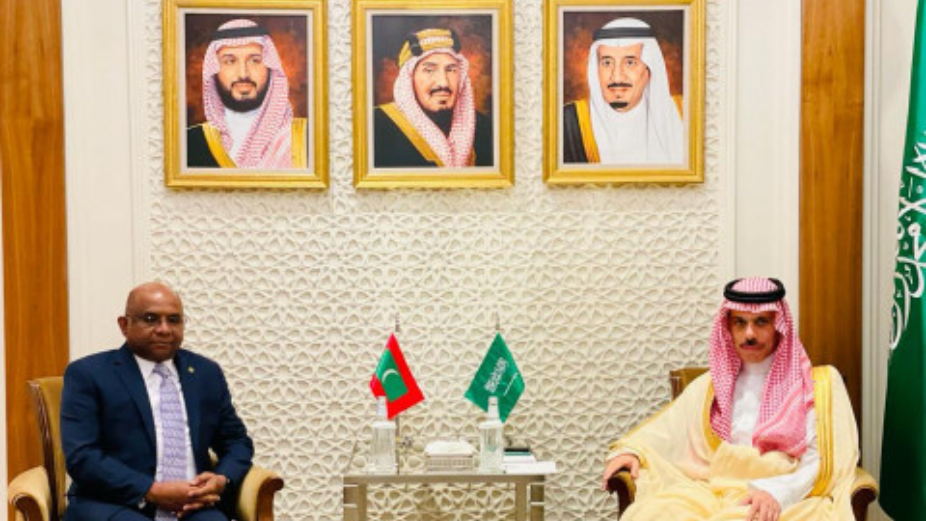 The Minister of Foreign Affairs, His Excellency Abdulla Shahid met with the Minister of Foreign Affairs of the Kingdom of Saudi Arabia, His Royal Highness Prince Faisal bin Farhan Al Saud in Riyadh, Saudi Arabia on Sunday.
During the meeting, held at the Ministry of Foreign Affairs of Saudi Arabia, Minister Shahid delivered a Letter from His Excellency President Ibrahim Mohamed Solih addressed to the Custodian of the Two Holy Mosques, His Majesty King Salman bin Abdulaziz Al Saud.
The Ministers reflected on the long-standing fraternal bonds of friendship and cooperation between the Maldives and Saudi Arabia, based on Islamic solidarity, mutual understanding and goodwill. During the discussions, the Ministers also explored avenues to further strengthen the bilateral partnership between the two countries, especially on enhancing economic cooperation.
Minister Shahid highlighted the numerous assistances and consistent support provided by the able leadership and Government of Saudi Arabia, and expressed gratitude for the closeness accorded to the Maldives by the Kingdom.
Minister Shahid was accompanied at the meeting by the Minister of State for Foreign Affairs, His Excellency Ahmed Khaleel, Ambassador of Maldives to Saudi Arabia, His Excellency Mohamed Khaleel, Minister Counsellor of the Embassy of Maldives in Saudi Arabia, Ms. Badoora Saeed and Desk Officer of the Ministry of Foreign Affairs, Mr. Ali Zahir.