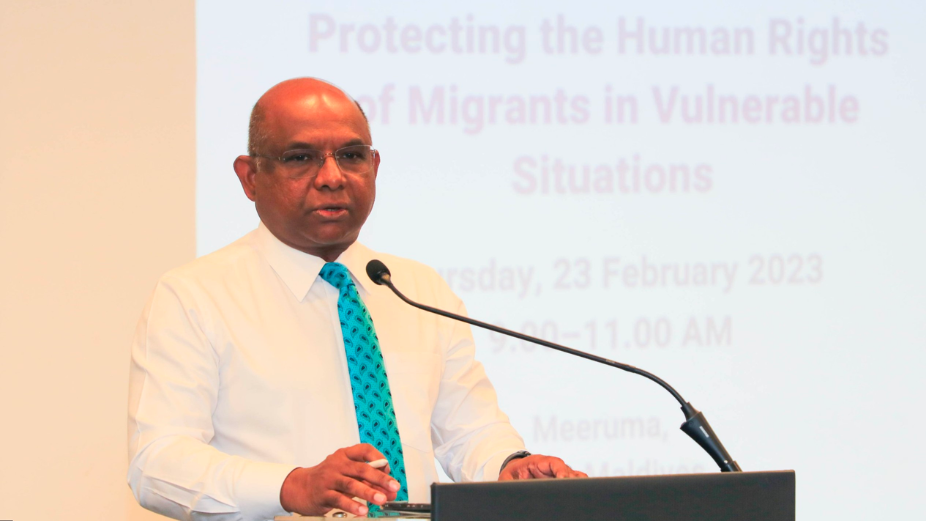 Foreign Minister Abdulla Shahid participated in the Regional Meeting on the Protection of Migrants in Vulnerable Situations, held yesterday.
The event was organized by the Office of the UN High Commissioner for Human Rights (OHCHR) and the International Organization for Migration (IOM) to bring together stakeholders across the Asia-Pacific region to assess progress in implementing Objective 7 of the Global Compact for Safe, Orderly and Regular Migration (GCM).
In his remarks, Minister Shahid recognized the complexity of the issue of migration and highlighted some of the initiatives undertaken by President Ibrahim Mohamed Solih's administration to cater to the needs of the migrant population in the Maldives. In this regard, he emphasized the importance accorded to inclusivity, in the Maldives' approach to recovery from the COVID-19 pandemic. He also noted the social media programs that were launched with the help of civil society and United Nations entities to advocate for acceptance, inclusion and empathy towards all members of society.
Speaking further, Minister Shahid recalled the legislative actions taken by the Government, such as the establishment of the Regulation on Expatriate Employment in 2021, the Regulation of Employees Accommodation Standards in 2021 and the Employment Agency Regulation in 2022.
He concluded his remarks by reiterating the Government's commitment to further strengthen the Maldivian legal framework to provide better protection of the rights of all migrant workers within the jurisdiction.