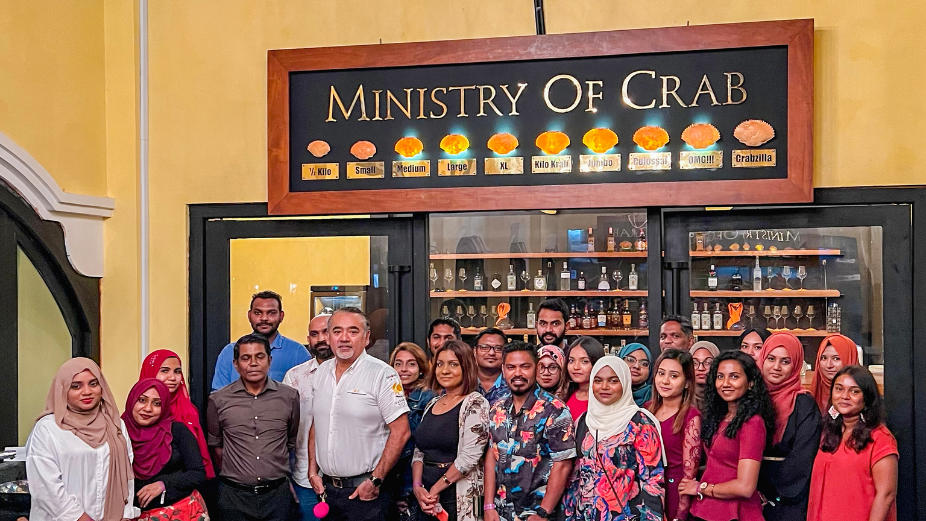 Ministry of Crab Maldives has hosted a special dinner to celebrate the Maldives winning World's Leading Destination at World Travel Awards in the year 2021. The dinner was attended by the Managing Director of MMPRC, Thoyyib Mohamed, several other members from MMPRC, key industry stakeholders, and influential figures.
Despite the tremendous challenges experienced by the tourism industry during the pandemic, World Travel Awards 2021 was a remarkable testament to the love and extraordinary effort of tourists from around the world as World Travel Awards reported a record number of visitor traffic and engagement from public voters.
World Travel Awards is the most prestigious honors program in global travel and tourism, established in 1993 and recognized globally as the ultimate hallmark of industry excellence. In addition to Indian Ocean's Leading Destination, Maldives also won three other categories; Indian Ocean's Leading Beach Destination 2021, Indian Ocean's Leading Dive Destination 2021, and Maldives Marketing & Public Relations Corporation had been awarded the Indian Ocean's Leading Tourist Board 2021.
The prestigious achievements are a testament to all the hard work, effort, and dedication of MMPRC, and all in the Maldives tourism and travel trade. These awards are also a valuable asset in the marketing of the island nation as one of the safest and top travel destinations in the world.
Ministry of Crab Maldives opened its door in October 2019, as part of The Marina @ CROSSROADS, the most comprehensive and ambitious integrated leisure and entertainment development undertaken in the country. Since its opening, the restaurant offers the crème de la crème of crustacean delights for seafood lovers.