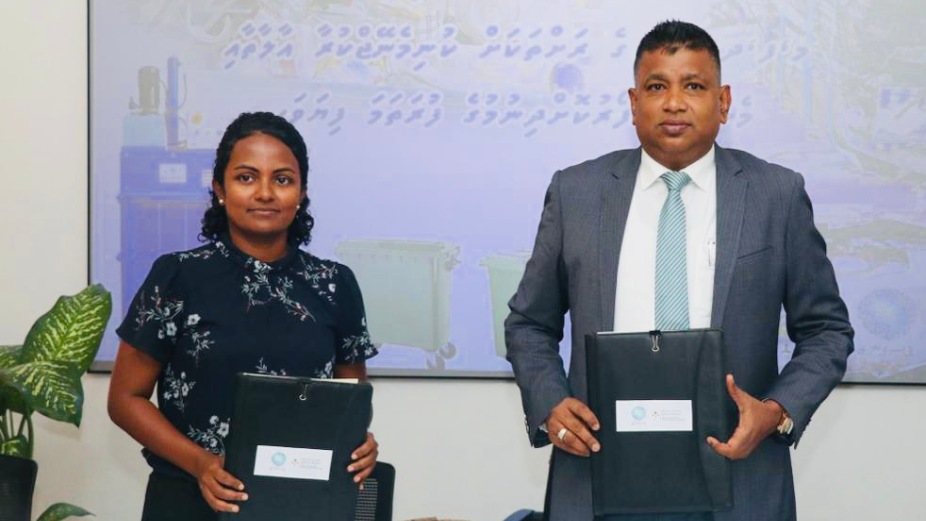 The Ministry of Environment, Climate Change, and Technology have awarded a contract to Sri Lanka-based company SAW Engineering Private Limited for the provision of waste management equipment to 22 islands across five atolls in the Maldives. The agreement was formalized through the signing of a contract between Minister Aminath Shauna and Director Bandula Jayarathne of SAW Engineering.
The initiative falls under the Maldives Clean Environment Project, which is being implemented by the Ministry of Environment and is funded by a grant from the World Bank. The project's budget amounts to USD 486,381.
During the signing ceremony, Minister Shauna emphasized the pressing waste issue faced by the Maldivian islands and stressed the need for immediate solutions. She expressed her confidence that the project would help alleviate the challenges experienced in several islands.
As part of the project, SAW Engineering will supply waste management equipment to 22 islands located in Meemu Atoll, Faafu Atoll, Dhaalu Atoll, Thaa Atoll, and Laamu Atoll. The equipment to be provided includes versatile mini balers, glass bottle crushers for single-feed use, dustbins, Personal Protective Equipment (PPE) kits, and other relevant items. SAW Engineering is expected to deliver the equipment within a four-month timeframe.
The Ministry of Environment clarified that the selected islands are primarily those that already possess waste and resource management centers or are currently constructing such facilities. The project aims to support these islands in managing their waste effectively, enhancing their capacity to compact, reduce volume, and store significant quantities of metal, plastic, and paper until proper disposal measures are in place.
The operation and maintenance of the equipment will be the responsibility of the respective island councils. In light of this, the government has decided to extend financial assistance from the Green Fund to support the island councils in maintaining the equipment.