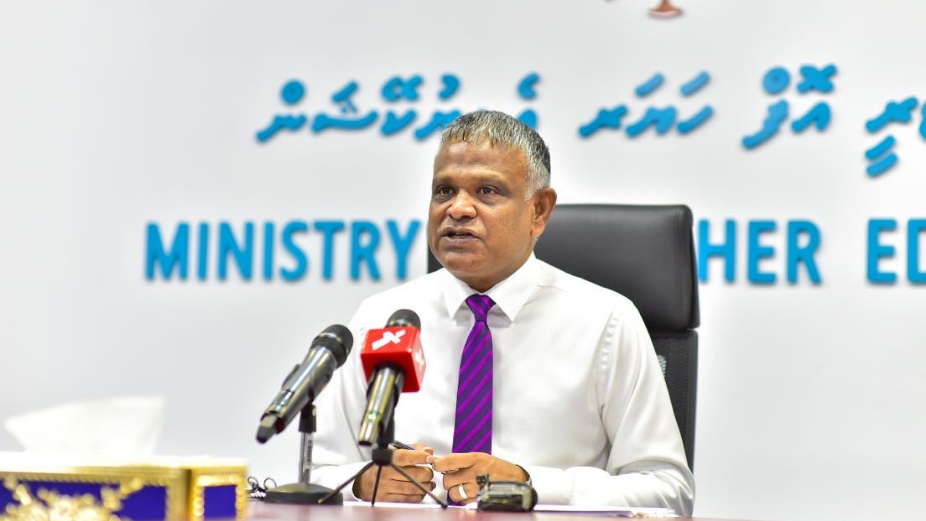 Ministry of Higher Education has opened applications for 720 student loans with a lower administrative fee. The new higher education opportunities, both in the Maldives and abroad, were announced by Higher Education Minister Dr Ibrahim Hassan on Monday.
The loan scheme includes 417 opportunities for new students and 303 opportunities for students who are already enrolled in courses. In these new opportunities, the administrative fee has been cut to one per cent.
Dr Ibrahim Hassan stated that students currently enrolled in courses under the free degree program can also apply for a student loan. This opportunity will further help them as it allows students to cover additional expenses, outside of the course fee. Additionally, 40 slots have been reserved for MBBS students in the Maldives.
Further to the loans available for Bachelor's Degree Programmes, the ministry also announced their decision to issue student loans for those undertaking their Master's degree in the Maldives. After many students undertaking their Master's degree in the Maldives – Minister Ibrahim Hassan said that the government has decided to issue student loans for them to ease their financial burdens.
President Solih went on to note that, while another 1,500 students were granted student loans to pursue higher education overseas, the administration prioritised those that did not have the financial capabilities and those with special needs, every step of the way. The administration is also tireless in its efforts to train professionals in various fields, said the President, with loans granted to 124 students to increase the number of local doctors. This February, programmes would be launched to train 1,150 individuals in the information and communications technology and accounting sectors.