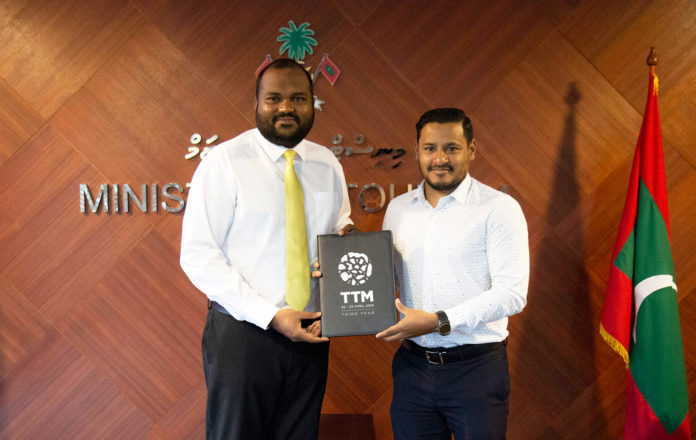 Ministry of Tourism has signed as the official partner of TTM scheduled to be held on 20th to 22nd of April 2019. As official partner, Ministry of Tourism will both endorse and facilitate Maldives Getaways in successfully hosting the third edition of leading Travel Trade show in the Maldives with the aim to bring top 200 operators from top 30 markets to Maldives.
Minister of Tourism Honorable Ali Waheed indicated the significance and importance of TTM to the Maldivian tourism industry and that the Ministry is keen to support such an initiative which opens up numerous avenues to the Maldivian tourism industry.
TTM is the largest platform connecting the travel trade community of the Maldives to the global network of travel professionals. For the past two years, TTM has invited over 500 travel agents, PR firms, media groups and related travel trade professionals to the Maldives. TTM aims to facilitate the tourism industry of Maldives to reach the ultimate target of 2 million tourists with over USD 3.5 billion in receipts by the end of 2020. More than 300 hoteliers, suppliers, related industries and travel industry professionals from Maldives and abroad are expected to visit TTM to network, negotiate and discover the latest industry opinion and trends in Maldives.
TTM consists of three components which are ; TTM Travel Summit, Maldives Supplier Expo and a Gala Night.
Maldives Supplier Expo which was held for first time in 2018, is an invitation-only event, where exhibiting companies can meet key decision makers including engineering directors, head chefs, procurement managers and Chief Financial Officers from all over the Maldives. Exhibitors & Visitors can pre-schedule meetings via a special software before the event begins while giving potential buyers an excellent opportunity to get an overview of offers for the industry.
The Third Edition of "TTM Travel Summit" is scheduled to be held on 20th April 2019. TTM Travel Summit is an invitation only event that brings together thought leaders, industry shapers and senior decision-makers who are professionally engaged with the Maldives tourism. This year's summit will be focused on "Travel Technology & Analytics" which will help travel industry to unleash analytics, dynamic pricing, digital and AI potential to deliver unstoppable customer loyalty and profit.
Gala Night is an invite-only gathering which features an elegant multi-cultural banquet, live music and the chance to network with industry stakeholders.