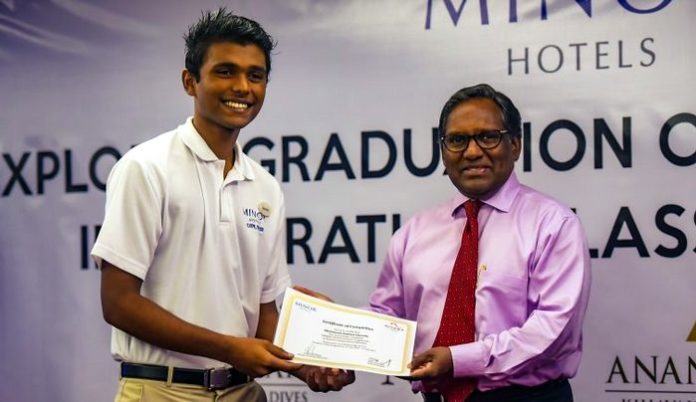 Ten Maldivians have successfully completed Minor Hotel Group's Explorer training programme. At the certificate awarding ceremony held at Hotel Jen on the 17th of July 2017, candidates were handed the internationally accredited certificate by Former President of the Maldives Dr Mohamed Waheed Hassan Manik. Further, a new batch of explorers was enrolled into the vocational hotel training programme that runs for a period of 12 months.
Speaking at the ceremony, Ms Sonya Brown Group Director of HR for Asia said that the participants have been trained mainly in the front office, housekeeping and culinary science departments.
The Explorer programme was launched in the Maldives in 2014, with international accreditation from an Australian based leader in the field of vocational education. The application is open for school leavers aged between 18-21. Successful completion would lead to a hospitality certificate III qualification. The 12-month long programme has been expanded into Thailand as well with a format of 70 percent on the job training, 20 percent social learning and 10 percent online formal classroom group training.
Each student would have access to a tablet allowing them a fully integrated learning experience. Upon completion they are expected have confidence in themselves as well as new skills making them fit for the tourism industry of Maldives.
The Thailand-based Minor Hotel Group currently operates five properties in the Maldives, including three resorts under the Anantara brand — Anantara Dhigu Resort and Spa, Anantara Veli Resort and Spa and Anantara Kihavah Villas — Naladhu Maldives and Niyama Private Islands Maldives.