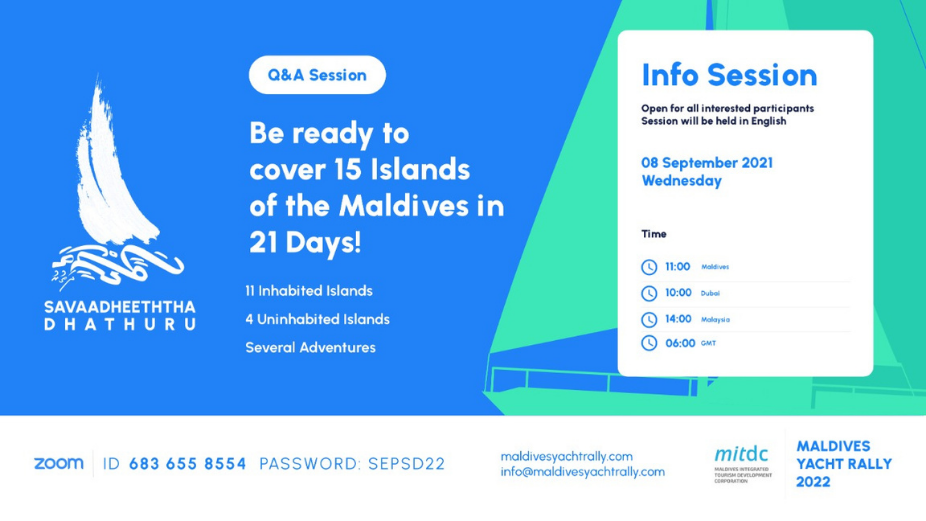 MITDC has announced that it will be hosting a virtual information session on "Savaadheeththa Dhathuru" Maldives Yacht Rally 2022.
MITDC will be hosting the session via ZOOM on 8th September 2021, 11:00am Maldives time, to provide information and host a Q&A on 'Savaadheeththa Dhathuru" Maldives Yacht Rally 2022. Regular updates about the event had been posted on official social media pages of  MITDC and Savaadheeththa Dhathuru.  
As registration for the rally is now open for all interested sailors, MITDC will address queries about the event and more in this virtual information session, that will be carried in English to reach a wider audience. Hence, MITDC invites all interested  parties to join the zoom meeting on 8th September. 
Furthermore, with the increase in demand by locally registered safari boats to participate in the rally, MITDC has decided to open this event for such vessels as well. This will be an opportunity for everyone to enjoy the rich culture, heritage and peaceful living of the local islands of the Maldives.  
The rally begins on February 2022 starting from the most northern atoll of the country, Haa Alif Atoll, taking a course of 3 weeks to reach Baa Atoll. It is designed to visit a total of 11 inhabited islands, 4 uninhabited islands and other interesting & adventurous activities.
During the yacht rally, the participants will experience the Maldivian rich history, highlighting memorials dedicated to Sultan Muhammed Thakurufaanu, and visiting 400 years old historic sites related to his endeavor.