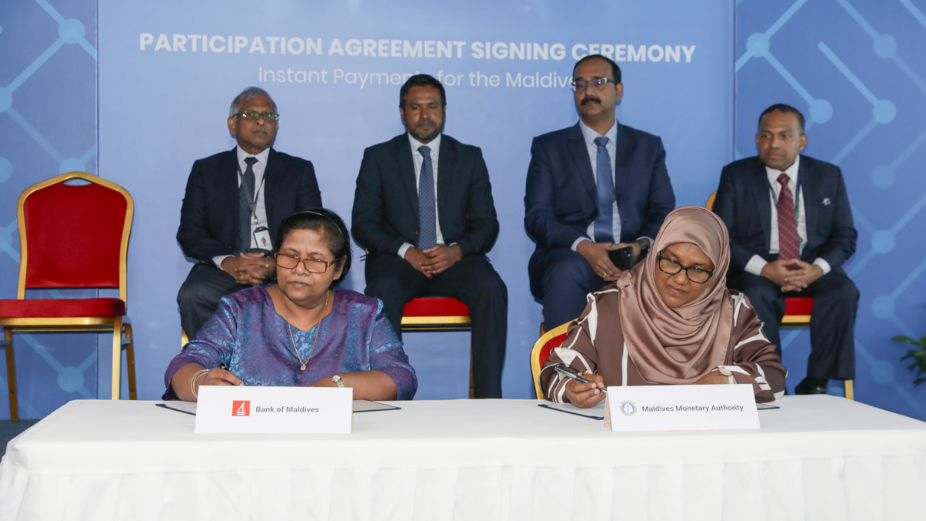 Maldives Monetary Authority (MMA) has taken a significant step towards the launch of its new Instant Payment System (IPS) by signing an agreement with three major banks for the initial phase of the payment system. The signing ceremony, held at the MMA, marked the participation of Bank of Maldives (BML), Maldives Islamic Bank (MIB), and State Bank of India (SBI).
With the imminent arrival of IPS, users will be able to make instant payments in real-time using their mobile phones or other devices. This innovative system eliminates the need for cash transactions, allowing individuals to transfer funds seamlessly, regardless of the bank they hold an account with.
One of the standout features of the payment system is the convenience it offers users. Instead of entering the account number each time, individuals can make transfers by simply entering a special code, such as their ID card number, email address, mobile number, or business registration number. This streamlined process will undoubtedly enhance the efficiency and ease of transactions.
Governor Ali Hashim confirmed that the three banks would be integrated into the payment system upon its official launch, which is scheduled for next month. He further emphasised that the banks have diligently fulfilled the necessary requirements leading up to their inclusion in the system.
Highlighting the progress made, Governor Ali Hashim stated that the payment system had undergone rigorous testing over the past few days. Moreover, he reassured the public that many of the issues encountered during the testing phase had been successfully addressed, ensuring the smooth operation of the IPS.
To develop the payment system, the MMA enlisted the services of TietoEVERY, a Finnish company specialising in technology solutions.
In the coming weeks, the MMA plans to commence pilot testing of the IPS, aiming to refine its functionalities and ensure a seamless user experience. Additionally, the three participating banks will begin introducing payment system services to the public, further familiarising individuals with the upcoming digital payment landscape.