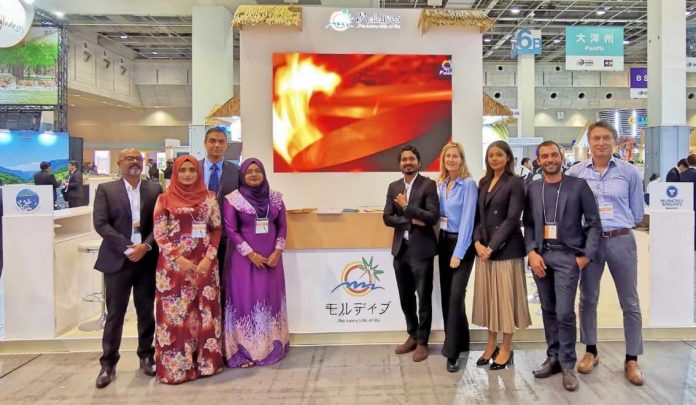 Maldives Marketing & Public Relations Corporation (MMPRC) has commenced a series of marketing activities with participation in Tourism Expo Japan and followed by a roadshow in association with Singapore Airlines under the theme of "Journey to the Sunny Side" in multiple cities targeting a wider audience to maximize the Maldives brand exposure.
Tourism Expo Japan will be held in Osaka, Japan from 24th to 27th October 2019. MMPRC together with 4 tourism industry partners will be showcasing the destination at this fair which is considered to largest travel fair in Japan targeted to enhance outbound and inbound travel of Japan.
There are colorful destination images displayed at the Maldives stand to grab the attention of visitors. Business meetings with the industry stakeholders are planned in order to identify strategies to further improve the market performance and strengthen the presence of the destination within the Japan Market. To attract more visitors to the stand, several activities will be carried at the stand.
This includes conducting a quiz for the visitors to win gift bags, have the opportunity to experience the underwater beauty of the Maldives through VR Gears and traditional food display at the stand where visitors can taste Maldivian food.
Tourism Expo Japan presents numerous opportunities for destination promotion. It provides travel professionals with an ideal platform for exchanging travel information. Furthermore, this fair inspires consumers by showcasing the facets of the tourism industry. 1,441 companies and organizations from 136 countries exhibited in the fair last year. This year the fair is estimated to have 130,000 visitors which includes 34,000 Trade & Press.
"Journey to the Sunny Side" Maldives roadshow will be held in Nagoya, Tokyo, Fukuoka, and Osaka from 28th October to 31st October 2019 will serve as a platform form for tourism industry partners to showcase products and network with top travel trade industry partners from Japan.
Maldives Roadshow in Japan marks the 10th event commenced in the series of "Journey to the Sunny Side" Roadshows planned by MMPRC to further promote the Maldives in the global market. This is a joint promotional activity with Singapore Airlines. Seven partners from the tourism industry of Maldives have participated in this roadshow to create potential opportunities and to further strengthen the relationship with Japanese tour operators.
Japan is one of the top ten generating markets as well as one of the important traditional markets to the Maldives. A total of 42,304 tourist arrivals were recorded from Japan to the Maldives in 2019 which is an increase of 2.8% compared to 2017. By the end of August 2019, 30,049 tourist arrivals were recorded from Japan, this is an increase of 13.2% compared to the same period of 2018. With 2.6% market share, Japan is the 9th largest market to the Maldives for this period.