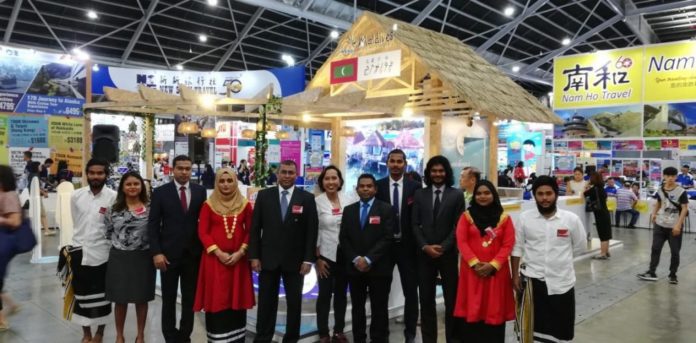 The Maldives Marketing and Public Relations Corporation (MMPRC) has concluded the NATAS holidays expo in Singapore, with great success.
The exhibition was held from 2nd to 4th August. The Maldives delegation was headed by Mr. Thoyyib Mohamed, Managing Director of MMPRC, along with five industry partners co-exhibiting with MMPRC.
NATAS HOLIDAYS 2019 concluded with great feedback from the market. The Singaporeans enjoyed the local food tasting at the Maldives stand with other activities such as posting a picture at the Maldives stand with the #visitmaldives where they won goodie bags.
Most visitors inquired about family holidays subsequently revealing their perception of Maldives as a Honeymoon destination.
NATAS travel fairs, launched in 1987, is a biannual affair that features different tourism products with best travel deals for the market. With an average of 2.4 million visitors attending the fair each year, it is one of the most popular travel fairs among Singaporeans.
From January to June 2019, tourist arrival from Singapore has increased 17.7 percent to the Maldives. As the ASEAN region is well connected to the Maldives and with the several marketing efforts in the region, we aim to increase the arrivals and create significant market exposure further.