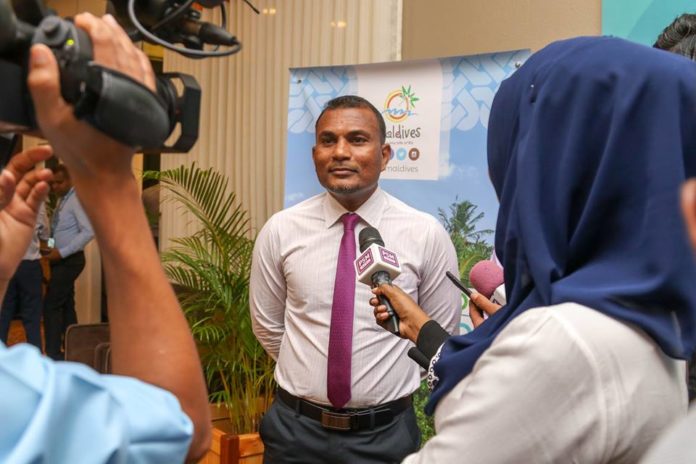 Maldives Marketing and Public Relation Corporation (MMPRC) revealed that 7.5 million passengers will visit the maldives soon after the opening of the new runway at Velana International Airport.
Speaking in the ceremony celebrating the visiting of the one-millionth tourist, the Acting Managing Director of MMPRC, Ahmed Haaris said that 7.5 million passengers will visit after the opening of the new runway. Nearly 1.5 million passengers are currently visiting the Maldives each year.
" Upon opening  the new runway we will step up the marketing activities, branding the Maldives, positioning, increasing visibility of the Maldives through online or offline media and also through all the media channels in the world". Haaris said.
He added that to advertise and promote the Maldives they will participate in international events which will be starting from September 20th.  Tokyo, Paris, Italy and China, Switzerland and London will also be taking part of these international events this year.
Moreover, during these events they will work on such activities to promote the current resorts, new opening resorts and the natural beauty of the Maldives.
Tourism Ministry Deputy Minister Hussain Liraar said that the only difficulty to increase the tourists in the Maldives is the limited space of Velana International Airport. He believes the opening of new airports and the new runway of VIA would help to increase tourist arrivals and  the occupancy rate of the Maldives.
Last year the tourist visiting rate was 1.3 million which is an increment of 8 percent compared to 2016 and is estimated to increase by 10 percent this year. Maldives has reached 1 million tourists so far this year.
The new runway of Velana International Airport has been finished which can accomodate the largest airbuses.