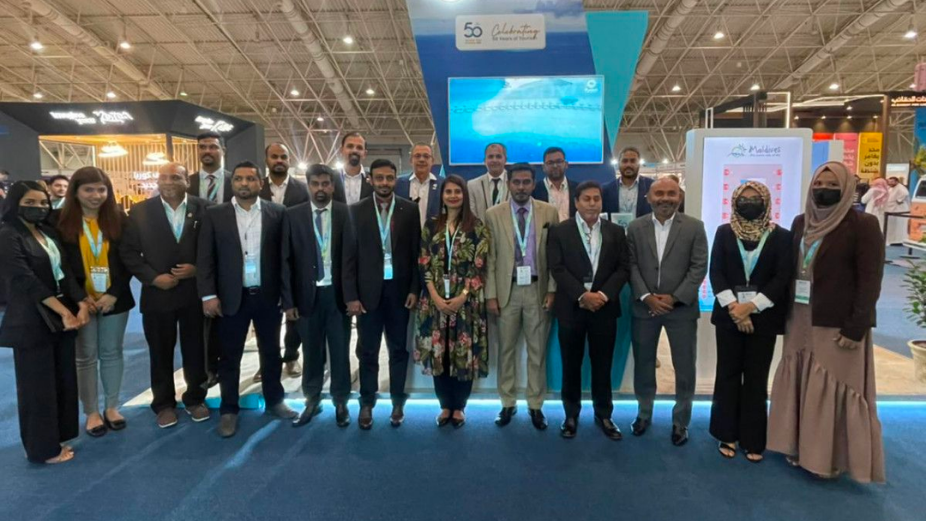 Maldives Marketing and Public Relations Corporation (MMPRC / Visit Maldives) participates in the Riyadh Travel Fair to market the destination in the Middle East. The Riyadh Travel Fair is being held in Riyadh, Saudi Arabia from 22 -24 May 2022. 
Riyadh Travel Fair 2022 is considered a significant annual event in which leading travel and tourism companies in Saudi Arabia with GCC and other international companies/countries gather with exhibitors representing tourist promotion authorities and tourists companies at the Arab and international levels.  The Fair is considered as a market for the introduction of the tourist products, services, and investments provided by the most significant tourist companies in the world.
MMPRC is joined at the Riyadh Travel Fair by industry partners – Bliss Maldives, Exciting Travel Holidays, Get me to Maldives, Intour Maldives, Island Life Travel Pvt Ltd, Lily Hotels Hideaway Beach Resort & Spa, Malahini Kuda Bandos, Travel Connection Maldives, Travel Escapes Maldives, Holiday Spot Maldives and Villa Hotels & Resorts. Through this event, MMPRC aims to market the destination as a safe haven and promote the unique geography of our scattered islands, which provides visitors with ultimate safety and privacy. Furthermore, this event will help us market the Maldives' tourism products, including resorts, guesthouses, liveaboards, hotels and the unique services and experiences available destination for tourists. It also aims to promote the diverse segments of tourism, including luxury, romantic, family and MICE options. Through this fair MMPRC and the industry partners will be able to share the latest travel guidelines and information about the destination for the travel trade and travelers from this market and around the world. 
The participation in the Riyadh Travel Fair is part of the marketing strategies of MMPRC for the Middle East market. This strategy is based on conducting campaigns to increase the reach, bookings and arrivals from the region. This activity also comes under our new short term strategy devised to address the evolving geopolitical climate in the world following the effects of the Russia-Ukraine war. With Russia and CIS topping the arrivals figures in recent years, the strategy is aimed at mitigating the potential negative impact on arrival numbers in selected markets to minimise the potential adverse effects on the Maldives tourism industry and the nation's economy.
Last year, Maldives welcomed 91,413 tourists to the country from the Middle Eastern market with Saudi Arabia ranking as the top 7th market to Maldives. This year until January, the country has recorded 5,103 arrivals from the Middle East market. MMPRC has planned several activities targeting the Middle East market under the effort to maintain destination visibility. This includes joint-marketing campaigns, webinars, participation in major fairs and exhibitions, roadshows, and hosting familiarization trips.