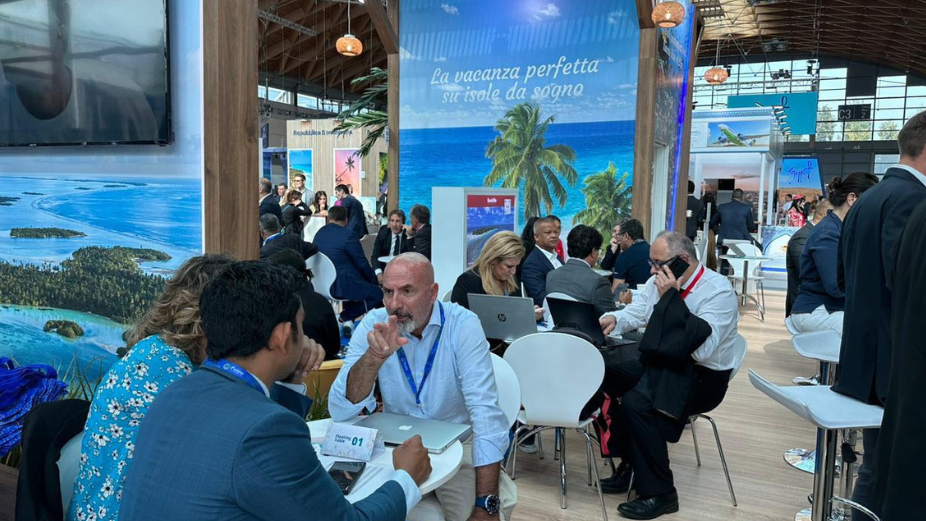 Maldives Marketing and Public Relations Corporation (MMPRC/ Visit Maldives) promoted the Sunny Side of Life at TTG Travel Experience 2023, held from 11th October to 13th October 2023 in Rimini Expo Centre in Italy. A total of 33 co-exhibitors participated in the fair alongside MMPRC to strengthen the destination presence in the Italian market.
TTG Travel Experience is one of the key marketing events for promoting global tourism in Italy. They offer various business development opportunities for tourism industry stakeholders to present their products and services to a wide audience of B2B professionals and consumers. The fair provides a leading platform for industry partners to reveal their latest plans, collaborate with new partners, and strengthen old ties in the Italian market.
MMPRC showcased their full range of products, including resorts, guesthouses, liveaboards, and hotels, along with their exceptional services and unique experiences at TTG Travel Experience. Throughout this fair, MMPRC and industry partners aimed to promote the Maldives and shared the latest information about the destination to the travel trade and travellers from the Italian market and beyond.
The Italian market is traditionally strong, being the third top source market in 2019. As of June 2023, there has been a 31.1% increase in arrivals compared to the same period last year. The Maldives has seen over 84,093 tourists from Italy in total this year so far.
MMPRC is consistently strengthening the presence of Maldives in the Italian market through a 360-degree marketing approach. The efforts undertaken by MMPRC are part of their key strategy in providing unforgettable experiences in the Sunny Side of Life for every Italian traveller. So far this year, in addition to media familiarisation trips and other activities, the Visit Maldives Storytellers' Conference 2023 included several active participants from Italy, resulting in substantial visibility and coverage for the Maldives on different social and traditional media platforms.
MMPRC will also be representing Destination Maldives at major trade shows such as EUDI 2023, which will take place in Bologna from 13-15th October 2023. The commencement of direct ITA Airways flights to the Maldives under seasonal flight operations is expected to lead to a considerable increase in arrivals from Italy to the Maldives at the end of this year.